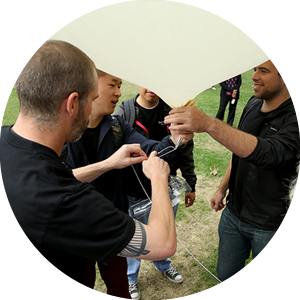 Each year the Spatial Sciences Institute organizes USC Spatial Studies undergraduate students, graduate students and faculty in celebration of GIS Day, demonstrating real-world GIS applications making a difference in society. Save the date of Tuesday, November 12, 2019 to celebrate the 2019 GIS Day with the Spatial Sciences Institute.
The SSI 2013 Balloon Launch was one of 1,000+ events in 98 countries around the world. The 2014 GIS Day celebration featured the intersection of GIS and archaeology with a demonstration of spatial data acquisition techniques as if students were on an archaeological dig.

Upcoming Events
No Events
Past Events
November 12, 2019 @ 9:30 am - 11:00 am
Tom received his undergraduate degree in Urban and Regional Planning and a graduate degree in Civil Engineering with a transportation focus from Cal Poly Pomona. He specializes in Geographic Information Systems (GIS), land use and transportation planning and social equity.
---
November 15, 2017 @ 2:00 pm - 3:00 pm
National Weather Service and GIS: The Use of Spatial Data to Track, Forecast, and Monitor Weather-Related Events. Wednesday, November 15, 2017, 2 - 3 pm, Mudd Hall (MHP) 203 Join...
---
November 19, 2014 @ 12:00 pm - 1:30 pm
Team Archaeology and GIS: Innovations in the Field 12:00 – 12:45 p.m. Spatial Sciences Institute Conference Room (AHF B57J) How do you find Maya tombs and temples underneath dense Central...
---
May 19, 2014 - May 20, 2014 @ All Day
Join the University of Consortium for Geographic Information Science as it gathers in Pasadena, California for its 2014 Symposium co-hosted by the USC Spatial Sciences Institute on "Setting the Agenda:...
---
November 16, 2013 @ 8:00 am - 5:00 pm
Join the Spatial Sciences Institute faculty, staff, students, and alumni at the SSI tailgate prior to the Homecoming game.  For more information and to RSVP, contact Melissa Salido.
---