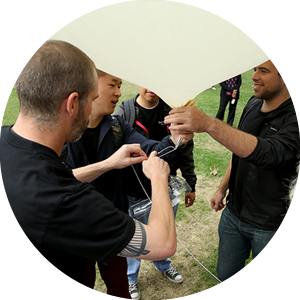 Each year the Spatial Sciences Institute organizes USC Spatial Studies undergraduate students, graduate students and faculty in celebration of GIS Day, demonstrating real-world GIS applications making a difference in society. Save the date of Tuesday, November 12, 2019 to celebrate the 2019 GIS Day with the Spatial Sciences Institute.
The SSI 2013 Balloon Launch was one of 1,000+ events in 98 countries around the world. The 2014 GIS Day celebration featured the intersection of GIS and archaeology with a demonstration of spatial data acquisition techniques as if students were on an archaeological dig.

Upcoming Events
No Events
Past Events
November 16, 2022 @ 11:00 am - 12:30 pm
From 11 am to 12:30 pm, join SSI Professors Guoping Huang, Jason Knowles and Yi Qi as they share use cases of remote sensing, drone imagery and machine learning for emergency response, ecosystem sustainability and conservation, forest and agriculture management, as well as cultural identity preservation that have been used in California, Nebraska and Ghana. Then engage in the Q&A moderated by SSI Professor Diana Ter-Ghazaryan. Then at 4 - 6 pm, join SC Mappers for a student-led mapping activity and learn how to use mobile devices to collect sustainability-related data on USC's campus.
---
November 17, 2021 @ 12:00 pm - 1:00 pm
"Climate Justicescape: Mapping Social-Ecological-Technological Vulnerability to Climate Change" Chingwen Cheng, PhD, PLA, LEED AP Program Head and Associate Professor of Landscape Architecture, Urban Design and Environmental Design, The Design School,...
---
October 28, 2020 - October 30, 2020 @ 10:00 am
Join us virtually in collaboration with UCLA and SC mappers in this year's humanitarian mapathon challenge and entries for open street maps over the course of 3 days! No GIS skills are required! We will quickly train you to use OpenStreetMap (OSM) to assist in humanitarian projects around the world. 
---
November 12, 2019 @ 9:30 am - 11:00 am
Tom received his undergraduate degree in Urban and Regional Planning and a graduate degree in Civil Engineering with a transportation focus from Cal Poly Pomona. He specializes in Geographic Information Systems (GIS), land use and transportation planning and social equity.
---
November 15, 2017 @ 2:00 pm - 3:00 pm
National Weather Service and GIS: The Use of Spatial Data to Track, Forecast, and Monitor Weather-Related Events. Wednesday, November 15, 2017, 2 - 3 pm, Mudd Hall (MHP) 203 Join...
---
November 19, 2014 @ 12:00 pm - 1:30 pm
Team Archaeology and GIS: Innovations in the Field 12:00 – 12:45 p.m. Spatial Sciences Institute Conference Room (AHF B57J) How do you find Maya tombs and temples underneath dense Central...
---
May 19, 2014 - May 20, 2014 @ All Day
Join the University of Consortium for Geographic Information Science as it gathers in Pasadena, California for its 2014 Symposium co-hosted by the USC Spatial Sciences Institute on "Setting the Agenda:...
---
November 16, 2013 @ 8:00 am - 5:00 pm
Join the Spatial Sciences Institute faculty, staff, students, and alumni at the SSI tailgate prior to the Homecoming game.  For more information and to RSVP, contact Melissa Salido.
---