MASTER OF SCIENCE IN SPATIAL ECONOMICS AND DATA ANALYSIS
USC's M.S. in Spatial Economics and Data Analysis (SEDA) provides the best of two worlds: curriculum of a masters in Economics with a core MS in Data Science curriculum, linked with the power of spatial sciences. In this innovative program, work with globally recognized faculty from the Department of Economics and the Spatial Sciences Institute in the USC Dornsife College of Letters, Arts and Sciences.
What is Spatial Economics?
The power of data analytics using location-based Big Data with insights from geographic information science and urban economics to identify business opportunities and solve real-world problems.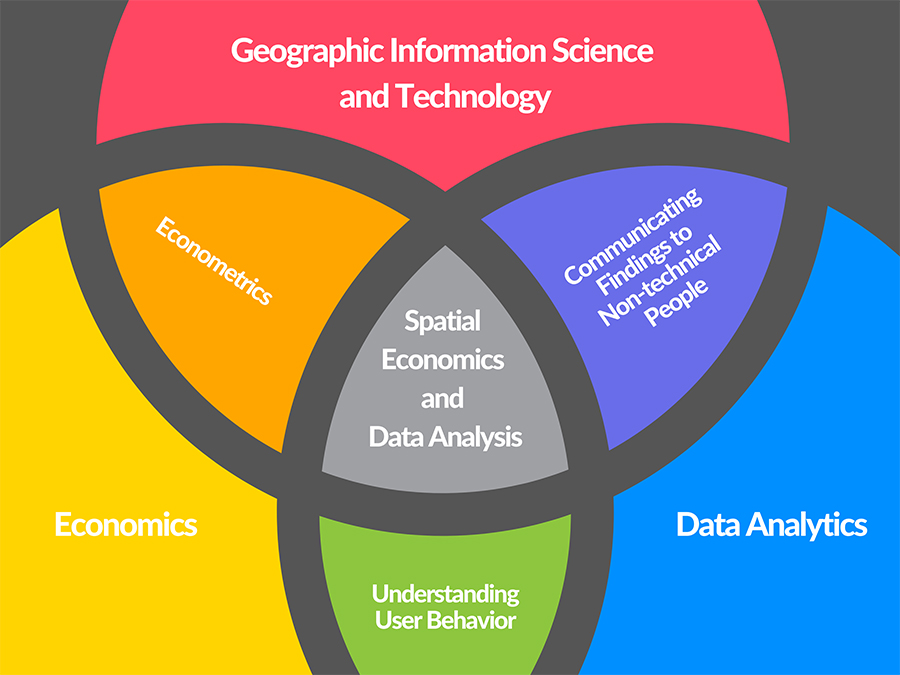 WHAT MAKES THIS PROGRAM UNIQUE FROM A MASTERS IN ECONOMICS OR A MASTERS IN DATA SCIENCE?
Students engage with a rigorous quantitative curriculum that innovatively combines economic, data science, and spatial science principles and applies them to current societal challenges. Projects are oriented for students to synthesize and analyze spatial data to gain insights on applications of compelling interest to them.
Here's one example:
The Challenge: Determine economic incentives that reduce extreme traffic congestion at certain locations at peak demand times.
The Spatial Economics Solution:
Using geo-coded road sensors, assemble and mine large-scale geo-coded data sets.
Analyze the data through maps and other visualizations to identify the spatial patterns in traffic congestion by city, day of the week, and time of day.
Design and implement field experiments to test whether a given congestion charge (such as charging drivers $6 from 4 pm to 7 pm) would be effective at reducing traffic congestion.
With actionable information, recommend policies that would improve traffic flow.
As spatial Big Data grows in availability and, in significance, so too are the market opportunities growing for professionals who can convert this kind of real-time spatial and economic analysis into recommendations in the areas of their choice.
Read this article "What Can Be Learned from Spatial Economics?" by Stef Proost and Jacques-Francoise Thisse, Journal of Economic Literature 2019, 57(3), 575-643.
CAREER OPPORTUNITIES
The global geospatial industry is expected to grow at a 13.6% compound annual growth rate between 2017-2020 to reach US $440 billion in 2020.
Professionals with masters in economics and spatial data analysis education can bring new insights in emerging business opportunities, environmental trends, urban crime, congestion trends, real estate valuation, technology diffusion, and countless other commercial and social applications around the world.
Through internships, guest speakers, industry meet-ups, and other career development opportunities such as the Spatial Sciences Institute annual Geospatial Summit, students will build a professional network in Big Data industries and startups.
The USC M.S. in Spatial Economics and Data Analysis has the U.S. Department of Education CIP code of 45.0702 for GIScience and Cartography, identified as a STEM CIP code.

Meet Some of Our Faculty
CURRICULUM
8 required courses (32 units total)
Year 1:
Theories of the household and the firm; product and factor markets; perfect and imperfect competition; welfare criteria.
The unique characteristics and importance of spatial information as they relate to the evolving science, technology, and applications of Geographic Information Systems.
Application of econometric tools using standard econometric software packages for microcomputers; empirical applications to selected economic problems of estimation and inference.
Design, implementation, and interrogation of relational, object-oriented and other types of geospatial databases. Recommended preparation: SSCI 581.
Year 2:
Economic models will be used to understand the main facts observed in cities in the developed and developing world. Special attention will be paid to empirical hypothesis testing and developing an urban economics research agenda. Students will be exposed to new data sets being collected using Smart Phones and other novel technologies that have greatly expanded our ability to test relevant hypotheses.
Theoretical foundations, methods, techniques, and software systems for spatial econometrics, investigating the effects of spatial dependence and spatial heterogeneity.
Choice of one ECON Elective
Choice of one SSCI Elective:
Recommended Preparation: SSCI 581.
Design, implementation, and interrogation of relational, object-oriented and other types of geospatial databases. Recommended Preparation: SSCI 581.
Principles of visual perception, spatial cognition and cartographic design and their contributions to the maps, animations, virtual reality and multimedia displays produced with modern GIS.
LEARNING OBJECTIVES
Graduates will:
develop an in-depth understanding of the fundamentals of spatial economics;
learn and apply spatial analysis and spatial modeling approaches to identify new business opportunities and new policy solutions addressing urban problems;
gain valuable research experience in analyzing spatial "Big Data"; and
develop professional development insights in this nascent field of spatial analysis.
Meet a Master of Science in Spatial Economics & Data Analysis Student
APPLICATION REQUIREMENTS
a baccalaureate degree from a regionally accredited college or university in the United States, or the equivalent of a baccalaureate degree in another country;
a minimum cumulative undergraduate GPA of 3.0;
a Graduate Record Exam (GRE) with a score of 150 on the quantitative reasoning section;
official and valid TOEFL/IELTS/PTE scores if English language proficiency is listed under the country-specific requirements as maintained by the USC Graduate Programs Admissions office;
a statement of purpose and CV/resume;
a minimum of two letters of recommendation (students can submit as many as four); and
any additional documentation (posters, articles, papers, etc.) - not required.
Students can be admitted into the program with various backgrounds. However, students are encouraged to have completed:
an introductory course in GIS and/or Remote Sensing (or proof of practical/field experience) and
undergraduate courses in Principles of Economics, Macroeconomics, and Microeconomics.
Apply online now to start in the upcoming fall or spring semesters.
Deadline for Fall 2020 applications is Monday, June 1, 2020
Deadline to certify intent to enroll for Fall 2020 applications is Monday, July 13, 2020
LEARN MORE
Experience USC Graduate Programs - sit in on a Spatial Economics or Spatial Sciences class.
Ask us your questions.
Contact: Ken Watson, Spatial Sciences Institute Academic Programs Director:
(213) 740-8298 | watsonke@usc.edu