In recognition for her perfect 4.0 GPA, GeoDesign major Jasmine Wu received the 2021 USC Emma Josephine Bradley Bovard Award. This award is given to graduating senior women who have attained the highest grade point average and contributed the most extracurricular service to the university.
The Bovard Award was just one of many honors that Jasmine garnered during her USC undergraduate years. She was also a USC Discovery Scholar, a distinction that recognizes graduating seniors who have excelled academically while making a meaningful contribution to their field of study through exceptional new scholarship. As part of her academic endeavors in the B.S. in GeoDesign program with a minor in Architecture, Jasmine pursued research interests in urban informatics and spatial data science, environmental justice and sustainable design and transportation planning.
She co-authored the article "Locations of Licensed and Unlicensed Cannabis Retailers in California: A Threat to Health Equity?," published in Preventive Medicine Reports in September 2020. The article co-authors included Dr. Robert O. Vos, associate professor (teaching) of spatial sciences, and members of the faculty with the Keck School of Medicine of USC.
In addition to her contributions on Spatial Sciences Institute research teams in support of health equity projects, Jasmine worked as a GIS/Data Analyst for the Department of Transportation for the City of Los Angeles. In this role, she provided analytical support for Mayor Eric Garcetti's "Vision Zero" program, the data-driven initiative to eliminate traffic fatalities in Los Angeles by 2025.
Other honors that Jasmine has earned include the USC Academic Achievement Award, the USC Irving & Jean Stone Endowed Scholarship, the USC Goldman Family Scholarship and the USC Undergraduate Summer Internship Scholarship. She also was inducted into Phi Beta Kappa and Gamma Theta Upsilon (GTU), the honorary geography society.
Jasmine has presented her research at the Annual Meeting of the American Association of Geographers, of which she is a member. She also served as the vice president of the USC Chinese Students and Scholars Association.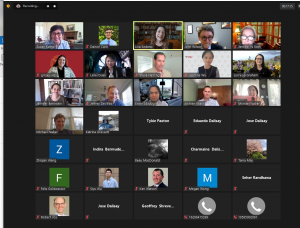 In her remarks at the April 29, 2021 GTU induction ceremony, Jasmine said, "The spatial sciences, especially geographic information sciences (GIS), have the power of tackling major social and natural challenges. During my time with the Spatial Sciences Institute, GIS has laid a solid foundation for me to do good for people in the city and beyond."
On behalf of the Spatial Sciences Institute, Dr. Vos congratulated Jasmine on her many achievements. He said, "Jasmine has been an absolute delight to work with because she listens carefully and is very diligent and organized. She is truly an outstanding scholar and we have sincerely appreciated the numerous contributions she has made through her scholarship and service as a USC undergraduate student. We are confident that with her many talents, she will go on to accomplish great things. My colleagues join me in wishing her well in all of her future endeavors."
This fall Jasmine will join the Master of City Planning program at the University of Pennsylvania.
Learn more about the USC B.S. in GeoDesign here.