November 2014
GIS Day
November 19 @ 8:00 am – 5:00 pm
Join USC Spatial Studies minors, GeoDesign majors, and graduate GIST students and faculty as they celebrate GIS Day, demonstrating real-world GIS applications making a difference in society. The SSI 2013 Balloon Launch was one of 1,000+ events in 98 countries around the world. Watch for SSI plans for the 2014 GIS Day on Wednesday, November 19, 2014.
---
February 2015
Fifth Annual Los Angeles Geospatial Summit
February 27, 2015 @ 9:00 am – 5:45 pm




























Check out the 2014 Geospatial Summit gallery!
Calling all geospatial infovores: gather at the annual Los Angeles Geospatial Summit each February. Discuss emerging trends in geospatial science, technology, and applications with industry leaders and GIS faculty and students at this one-day networking event presented by the USC Spatial Sciences Institute.
Collaborating academic programs: California State University, Channel Islands; California State University, Long Beach; California State University, Los Angeles; California State University Northridge; Cal Poly Pomona; Claremont Graduate University; County of Los Angeles; Loma Linda University; Loyola Marymount University; Occidental College; University of California, Los Angeles; and University of Redlands.
Undergraduate and graduate students in GIS and related geospatial disciplines can present papers, learn from industry leader speakers, and network throughout the summit.
Industry professionals can share insights about emerging geospatial trends, create greater awareness for their work, and connect with other geospatial professionals in the region.
Venue
Japanese American National Museum
100 North Central Avenue, Los Angeles, CA90012 United States
+ Google Map
Organizer
Melissa Salido
Phone:
(213) 740-6532
Email:
msalido@usc.edu
---
July 2014
SSI @ the Esri International User Conference
July 15 @ 5:30 pm – 10:00 pm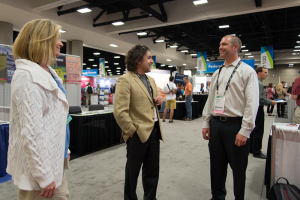 Come by the Spatial Sciences Institute booth, look for SSI faculty and students at their presentations, and enjoy drinks and appetizers with faculty, students, alumni, and colleagues from around the world at the SSI reception on Tuesday evening, July 15, 2015.
Venue
Roy's Restaurant — Hawaiian Fusion Cuisine on the San Diego Waterfront
333 West Harbor Drive (San Diego Marriott Hotel and Marina), San Diego,
+ Google Map
Organizer
Melissa Salido
Phone:
(213) 740-6532
Email:
msalido@usc.edu
---
May 2014
UCGIS 2014 Symposium
Join the University of Consortium for Geographic Information Science as it gathers in Pasadena, California for its 2014 Symposium co-hosted by the USC Spatial Sciences Institute on "Setting the Agenda: Research and Education for Today and Tomorrow."
A highlight of the symposium will be symposium attendees' direct participation in the collaborative updating the original 2006 UCGIS Body of Knowledge, under the direction of SSI Director John P. Wilson.
Venue
Hilton Pasadena
Phone:
(626) 577-1000
168 South Los Robles Avenue, Pasadena, CA 91101 United States
+ Google Map
Website:
www.pasadena.hilton.com
Organizer
Sarah Battersby
Email:
battersby@mailbox.sc.edu
Website:
http://ucgis.org/event-group/ucgis-2014-symposium
---
Commencement
May 17 @ 8:00 am – 3:30 pm
Check out the Commencement gallery here!
Celebrate this year's graduates:
USC Main Commencement Ceremony, Alumni Park, 9:00 a.m. – 10:30 a.m.
USC Dornsife College of Letters, Arts and Sciences Satellite Ceremony 1, Alumni Park, 11:00 – 12:30 p.m.
Spatial Sciences Institute Reception, side lawn of Allen Hancock Foundation building, 1:00 – 3:30 p.m.
Venue
University Park campus
Organizer
Melissa Salido
Phone:
(213) 740-6532
Email:
msalido@usc.edu
---
April 2014
Spring Colloquium: Dr. Werner Kuhn, UCSB
"Organizing Knowledge Around Spatio-temporal Questions"
On November 1, 2013, Dr. Werner Kuhn succeeded Dr. Michael Goodchild as the director of the UC Santa Barbara Center for Spatial Studies and professor in the UCSB Department of Geography. He also assumed the Jack and Laura Dangermond Endowed Chair.
From 1996 until his appointment at UCSB, Dr. Kuhn was a professor of Geographic Information Science at the Institute for Geoinformatics, University of Münster. He is one of the founding members of the Vespucci Initiative for Advancing Geographic Information Science, organizing annual summer institutes and specialist meetings.
His research vision is for spatial data and analyses to serve all disciplines and to support transdisciplinary problem solving. To realize his vision, he proposes to organize spatial questions around a set of core concepts that are independent of the peculiarities of GIS software and algorithms used to answer the questions.  This talk illustrates these core concepts and their pertinent questions with examples of organizing and accessing knowledge by spatial, temporal, and thematic references.
Watch the colloquium.
Venue
Hedco Neurosciences Building Auditorium (HNB 100)
Organizer
Melissa Salido
Phone:
(213) 740-6532
Email:
msalido@usc.edu
---
November 2013
GIS Day
November 16, 2013 @ 8:00 am – 5:00 pm
Join the Spatial Sciences Institute faculty, staff, students, and alumni at the SSI tailgate prior to the Homecoming game.  For more information and to RSVP, contact Melissa Salido.
---