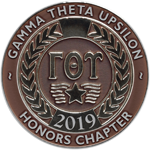 Gamma Theta Upsilon (GTU) is the international geographical honor society recognizing geography's next generation of leaders. Founded in 1928, Gamma Theta Upsilon became a national organization in 1931.
The Spatial Sciences Institute founded the Nu Theta Chapter of GTU on April 5, 2018 at the University of Southern California. The Nu Theta Chapter has been recognized as a GTU Honors Chapter in 2019, in 2020, and in 2021.
The goals of GTU are:
to further professional interest in Geography by affording a common organization for those interested in the field;
to strengthen student and professional training through academic experiences in addition to those of the classroom and laboratory;
to advance the status of Geography as a cultural and practical discipline for study and investigation;
to encourage student research of high quality, and to promote an outlet for publication;
to create and administer funds for furthering graduate study and/or research in the field of Geography; and
to encourage members to apply geographic knowledge and skills in service to humankind.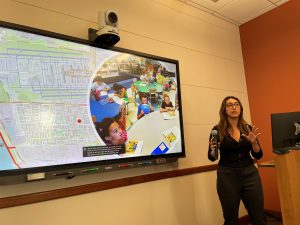 The Spatial Sciences Institute recommends undergraduate and graduate students for membership in GTU based upon superior scholastic achievement. GTU membership is considered an honor and a professional distinction.
USC students who have received the honor of GTU membership are invited to an annual ceremony presented by the Spatial Sciences Institute at which they are officially initiated into the GTU society and receive their certificates of membership.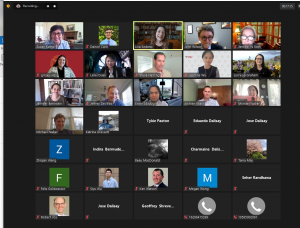 Congratulations to the 2023 initiates who were inducted during the ceremony for the USC Nu Theta Chapter on Thursday, April 27, 2023! Watch the ceremony recording.
Gamma Theta Upsilon members in good standing can apply for four undergraduate scholarships and one graduate scholarship each year. The evaluation committee reviews each scholarship application with particular attention to the following items: cumulative GPA, geography GPA, letters of recommendation, applicant's contribution to local GTU chapter and the department, as well as the applicant's own appraisal of how the scholarship will help him or her personally and professionally. For more information about scholarship criteria, the application process, the application timeline, and the application package, visit http://gammathetaupsilon.org/scholarships.html.
Gamma Theta Upsilon also provides the AAG-GTU Travel Award, a limited number of $200 travel awards available with preference to geography undergraduate and graduate students who are attending an American Association of Geographers meeting for the first time and who will serve as an author or co-author on a paper or poster being presented at the meeting. Visit the GTU website for more information.
The Spatial Sciences Institute faculty who hold Ph.D. degrees in Geography and who are members of GTU are:
Guoping Huang
Jason Knowles
Beau MacDonald
Darren M. Ruddell
Yi Qi
Elisabeth Sedano
Diana Ter-Ghazaryan
John P. Wilson
Members of GTU can order Gamma Theta Upsilon member pins, honor cords, stoles, and other merchandise online.
For more information about the USC Nu Theta Chapter of Gamma Theta Upsilon, please contact Susan Kamei, Managing Director, at kamei@usc.edu.