emarguli@usc.edu / (213) 364-7397
1989       Master of Landscape Architecture, Graduate School of Design, Harvard University
1984       B.S., Landscape Architecture, Cornell University
Esther Margulies, ASLA is a licensed Landscape Architect and founder of The Office of the Designed Landscape (OotDL). As a practice leader at nationally recognized firms, she has led multi-disciplinary integrated teams of on public realm and private sector projects including urban transit, park and mixed use projects.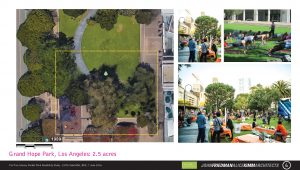 Her work has included award-winning cultural preservation, urban storm water, K-12, planning, higher education and park projects. She is a long -time advocate of a revitalized Los Angeles River. She served as the co-chair of one of the first professional design charrettes to re-imagine the river in the Studio City area in 1997, and the co-founder of The Los Angeles River Public Art Project. Margulies is licensed to practice landscape architecture in California and Massachusetts.
She is the assistant director of the Graduate Program in Landscape Architecture + Urbanism at the University of Southern California. She teaches graduate level studio, theory, and construction courses. She also serves as the diversity and inclusion liaison in the USC School of Architecture.
Margulies is part of an interdisciplinary USC team leading the USC Urban Trees Initiative, partnering with the City of Los Angeles to develop an urban forest of shade trees in the community surrounding the USC Health Sciences campus.
In 2014 Margulies was appointed by Mayor Eric Garcetti as a commissioner on the West Los Angeles Planning Commission and has served as the commission vice president and president. She is a former board member of the USC Architecture Guild.