SSI's Gamma Theta Upsilon Chapter receives the 2018-2019 Honors Chapter Award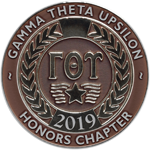 Gamma Theta Upsilon, the international geographical honor society, has announced that it has awarded SSI's Nu Theta chapter at the University of Southern California with the Honors Chapter Award for 2018-2019.
The GTU Honors Chapter Award recognizes outstanding chapters that have increased the number of new inductees over the previous year, have provided leadership for at least two events designed to promote geography during the academic year, and have helped to promote geography on social media.
In congratulating SSI's Nu Theta chapter, Dr. Karen D. Johnson-Webb, GTU second vice president, wrote, "Your dedication and enthusiasm are inspiring. What an impressive achievement!"
Dr. Jason Knowles, adjunct associate professor of spatial sciences and president of the Nu Theta chapter, said, "We are thrilled that GTU has recognized our chapter's commitment to leadership in geography with this prestigious award. We are especially proud to have the excellence of our students, faculty and staff acknowledged in the second year of our chapter's existence. Well done, everyone!"
SSI Managing Director Susan Kamei added, "Our undergraduate and graduate students who are inducted into GTU are not only academic leaders in our programs, but are civic leaders, as well. They are examples of how spatial scientists drawing upon geography and the related disciplines are contributing to the well-being of our society and planet."
"We thank GTU for this honor and we remain committed to continued excellence in the activity of our Nu Theta chapter," said John P. Wilson, professor and founding director of the Spatial Sciences Institute.
The induction ceremony for the Nu Theta 2019-2020 inductees will be on Monday, May 4, 2020, from 4:30 – 6 pm.