September 22, 2021 @ 4:00 pm - 5:00 pm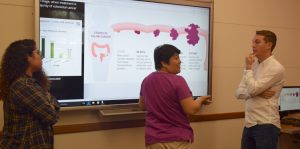 Learn about the interdisciplinary Population, Health and Place Ph.D. program jointly offered by the Keck School of Medicine of USC Department of Population and Public Health Sciences (formerly the Department of Preventive Medicine), the USC Dornsife Department of Sociology, and the USC Dornsife Spatial Sciences Institute. Hear about the career opportunities for graduates in the academic, public, private and not-for-profit sectors.
Speakers will include:
          Jennifer A. Ailshire, PhD, Associate Professor of Gerontology and Spatial Sciences
Laura Ferguson, PhD, Assistant Professor of Population and Public Health Sciences and Spatial Sciences
John P. Wilson, PhD, Professor of Sociology and Spatial Sciences and Founding Director, USC Spatial Sciences Institute
Applications for the cohort to start Fall 2022 are now open. The application deadline is Wednesday, Dec. 1, 2021.
The info session will be live-streamed and recorded. If you can't make the live session, please RSVP to be able to view the recording.
For more information, email Robert O. Vos, Associate Professor (Teaching) of Spatial Sciences and Director of Graduate Studies, USC Spatial Sciences Institute, at vos@usc.edu.
---
Date/Time
September 22, 2021 @ 4:00 pm - 5:00 pm
Location
Spatial Sciences Institute Conference Room (AHF B57J)