Elin Henningsson Named SSI's Third USGIF Golden Ticket Winner
The United States Geospatial Intelligence Foundation (USGIF) has announced that it has selected USC Spatial Sciences Institute alumna Elin Henningsson to participate in its 2020 Young Professionals Golden Ticket program.
Henningsson (M.S. in Human Security and Geospatial Intelligence (HSGI) '19) is one of 30 individuals named to this prestigious program. Golden Ticket participants are young professionals (35-years-old and under or with five or less years of experience in the GEOINT community) who are considered "rising stars" in the geospatial community and are afforded exclusive opportunities for mentorship from senior leaders and innovators in the GEOINT world.
Typically Golden Ticket participants receive complimentary GEOINT Foreword and GEOINT 2019 Symposium registrations. In addition to having the full GEOINT Symposium experience, Golden Ticket participants have the opportunity to meet the industry leaders in small group settings, such as the USGIF Chairman's Reception. With this year's symposium plans to convene in Tampa, Florida from April 26-29 cancelled due to the COVID-19 pandemic, USGIF is considering alternative plans for the 2020 Golden Ticket participants later in the year.
As a senior GIS specialist with the Southern California Gas Company, Henningsson is integrating remote sensing and other geospatial intelligence methodologies to prevent damage to gas pipes before they are compromised in disasters. Her career goals are to protect human populations from environmental and other kinds of threats.
For her M.S. in HSGI capstone project, Henningsson and her project teammates developed best practices for the delivery of a raster mosaic via cloud hosting service, created using OptimizeRasters Geoprocessing Toolbox and the Mosaic Dataset Configuration Script. Their findings were in support of the One World Terrain (OWT) project of the USC Institute for Creative Technologies, which aims to provide a set of 3D global terrain capabilities and services that can replicate the coverage and complexities of the operational environment.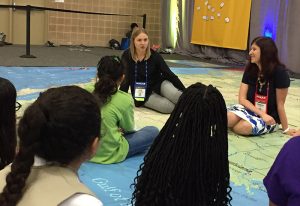 At last year's 2019 GEOINT Symposium in San Antonio, Texas, Henningsson served as a USGIF student assistant. In exchange for a couple hours of work each day, Henningsson received complimentary conference registration, travel reimbursements and the opportunity to present in the student poster symposium. One way in which Henningsson contributed to the success of the 2019 GEOINT Symposium was to share her work and vision for the opportunities for young women in STEM-related fields to a local Girl Scout troop.
COL [R] Steven D. Fleming, Ph.D., professor of the practice of spatial sciences with the USC Spatial Sciences Institute and the USC Institute for Creative Technologies, said, "We are very proud to have Elin receive this terrific recognition. She is most deserving of this award which acknowledges that she is among the elite young leaders of the geospatial profession, and we congratulate her."
Fleming added, "On behalf of the Spatial Sciences Institute, I also want to thank the USGIF for the many invaluable opportunities it provides to developing the 'best and the brightest' in the GEOINT workforce pipeline. Elin is the third SSI representative to be selected for the Golden Ticket program – she follows SSI's Richard Windisch selected in 2018 and Kevin Mercy selected in 2019. USC Spatial will continue to have a steady stream of outstanding students and young professionals who, thanks to the resources provided by the USGIF, are well on their way to being great leaders in geospatial intelligence and human security."
"I am incredibly excited to be selected as a 2020 USGIF Golden Ticket winner. Based upon my experiences last year at the 2019 GEOINT Symposium, I'm honored to continue being a part of the USGIF community. I hope to continue contributing to the geospatial profession. I'm looking forward to getting to know the other Golden Ticket recipients and I'm excited to see what's in store for us moving forward."
The USC Spatial Sciences Institute offers an M.S. in Human Security and Geospatial Intelligence, as well as graduate certificates in geospatial intelligence, geospatial leadership and remote sensing for earth observation. For more information or to connect with an enrollment advisor, email gis@usc.edu or call (877) 650-9054.