Ph.D., Population, Health and Place, University of Southern California
M.A., Geography, California State University, Long Beach
B.A., Geography and Environmental Studies, University of California, Los Angeles

Lourdes Johanna Avelar Portillo, MA, PhD, is currently a postdoctoral fellow at the University of California, San Diego (UCSD) in the School of Medicine, Department of Family Medicine and Public Health, Division of Global Health as an NIH-funded 2021 GloCal Fogarty Fellow.
Dr. Avelar holds a BA in Geography and Environmental Studies from the University of California, Los Angeles and a MA from Cal State Long Beach (CSULB) in Geography. At CSULB, Dr. Avelar's research explored the intersections of gender, psychosocial stressors and water insecurity in rural communities of Santo Tomas, El Salvador. These experiences have largely shaped her research interests, which include water insecurity and health equity through an intersectional lens.
In 2016, Dr. Avelar joined USC's Population, Health and Place PhD program housed in the Spatial Sciences Institute. With guidance from her co-chairs, Dr. Yao-Yi Chiang and Dr. Meredith Franklin, alongside her committee members, Dr. Manuel Pastor, Dr. Laura Ferguson, and Dr. Benjamin Henwood, she developed an interdisciplinary dissertation project that focuses on the impacts of water, sanitation, and hygiene (WaSH) insecurity in unhoused communities of Los Angeles, California.
While most of the existing research focuses on WaSH insecurity experiences in the global South, Dr. Avelar's dissertation shifts the attention to the global North, specifically Los Angeles's most vulnerable unhoused populations.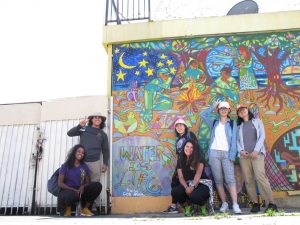 The overarching goal of her dissertation is to better understand how unhoused communities of Los Angeles navigate spaces and places that do not have safe, sufficient, accessible, and affordable access to WaSH services. Presenting three studies, her dissertation explores the difficulties unhoused communities encounter in their daily struggle to survive, with each study providing support for interim-level WaSH services that help address people's unmet needs. Dr. Avelar's work integrates survey data from people with lived experience and in-depth interviews with different stakeholders in Los Angeles.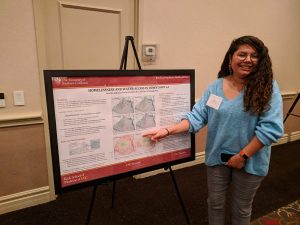 While at USC, Dr. Avelar earned several fellowship and research grants, including the Gold Family Scholarship, the Summer Writing and Research grant, two Graduate student government research awards, and a travel award to the 2019 International Cartographic Conference in Tokyo, Japan. Dr. Avelar is the first person to receive a PhD from the USC Population, Health and Place program, and the first Latina to graduate from the program.
At UCSD, Dr. Avelar will be taking her research to a global level by examining how at-risk unhoused populations who inject drugs (PWID) in San Diego, California and Tijuana, Mexico navigate different spaces to find access to WaSH services, and ultimately how this impacts their health.
Dr. Avelar's overarching career goal is to generate actionable research for underserved communities and to translate knowledge into informed policy. Dr. Avelar believes in improving community health using a targeted approach; promoting programs and services that are cost-effective, provide real benefit, and are informed by lived experience.
For more information on Dr. Avelar and her research, please visit https://www.lawateraccess.com.