Ph.D., Population, Health and Place, University of Southern California
M.P.H., emphasis on Health Policy and Management, University of Georgia
B.S., Health Promotion and Behavior, University of Georgia
Douglas Fleming, Ph.D., is the GIS Project Coordinator at Perspecta with the GRASP (Geospatial Research, Analysis, and Services Program) group that is a part of the Center for Disease Control Agency for Toxic Substances and Disease Registry (CDC/ATSDR).
He received his Ph.D. in Population, Health and Place in 2021, where his dissertation work focused on the spatiotemporal analysis of out-of-hospital cardiac arrests (OHCA) and bystander CPR in Los Angeles. The primary objective of his dissertation was to provide an analytical framework for creating actionable intelligence on OHCA and non-performance bystander cardiopulmonary resuscitation (NBCPR).
Dr. Fleming explored two avenues: (1) using spatiotemporal methods to analyze OHCA and NBCPR, and (2) increasing understanding of OHCA and NBCPR through analyzing OHCA and NBCPR through the lens of the COVID-19 pandemic.
His dissertation showed that spatiotemporal methods are viable and can provide more relevant and useful information for identifying high-risk areas than spatial analysis alone. He also demonstrated that the COVID-19 pandemic had differential impacts on communities in Los Angeles, which also helps inform public health practitioners about resource utilization for public health and medical emergencies.
In the final portion of this dissertation, he provided a high-level tutorial on two of the analyses in his dissertation.
His dissertation co-chairs were Dr. Ann Owens and Dr. Stephen Sanko. His committee members were Dr. Karen Kemp, Dr. Jennifer Ailshire, and Dr. Sarah Axeen.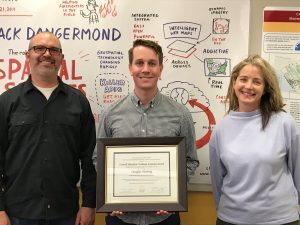 As a Ph.D. student, he won USC's Outstanding Teaching Assistant Award and the General Education Teaching Assistant Award in 2018.  He also received numerous summer research fellowships.
Prior to starting the USC Population, Health and Place Ph.D. program, Douglas was a researcher with the Care Coordination Institute (CCI) working with grants from the National Institute of Health, the National Institute on Drug Abuse and the Center for Disease Control on issues ranging from tobacco use prevention to obesity and heart disease. In this capacity, he performed site suitability analyses for new medical buildings and resources.
While with the CCI, he co-authored four research articles that were published in the Journal of the American Heart Association and the Journal for Clinical Hypertension and presented posters at a number of conferences.