public art
 in the Bay Area, which includes everything from a 1930s 
beach-chalet mural
 to a bronze 
Willie Mays
 to "
Kittenzillas
" shooting lasers from their eyes to a tiny 
Statue of Liberty
 on Alcatraz.
The staggering work of cartography was assembled by local software whiz Nancy Milholland – art lover, ESRI enthusiast, ordained Episcopal priest, and proud owner of a hound. It was the latter facet of Milholland's life that pushed her to create the "San Francisco Public Art Map," a finalist in a recent mapping competition in Berkeley. She writes:
As a San Francisco dog owner, I often walk my terrier at Fort Funston. At the ocean's edge, by a crumbling concrete structure, are various artworks celebrating dogs. A bas-relief sculpture depicts running greyhounds. A ceramic work shows a dog Buddha gazing out to sea. Who created these pieces and why? I wanted to know the story behind these artworks.
When Milholland went looking for information in the city's spatial dataset for public art, she discovered that some locations were wrong by a matter of miles. Other artworks had been excluded because they were not publicly funded, forming a blind spot in the official records for street art, privately funded installations, and murals that random people had thrown up.
So she decided to throw her net far and wide and forge a more comprehensive guide to the city's visual allure. Her map draws from a variety of official and curated sources (the municipal planning department and arts commission, the SF Mural Arts program) and more lawless treasure troves like Flickr, Instagram, and YouTube. The glittering mix of artistic gems she's accumulated includes not just standard "art," but lovely bits of architecture, historically important buildings, and pleasing panoramas from digital photographers, like this soulful shot of the San Francisco skyline: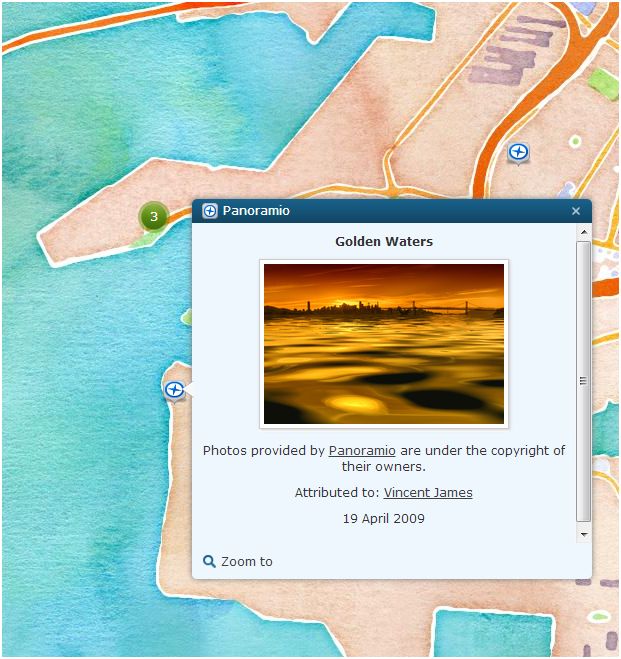 Milholland is not above featuring the occasional weird bit of found art, too. Gag before this discarded lunch in Oakland that has a face (and possibly a pubic hair):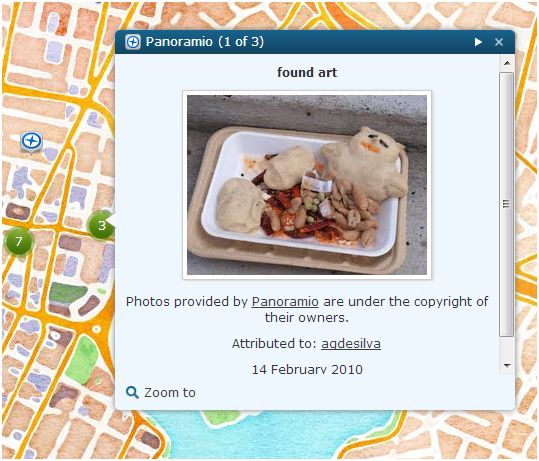 You can switch the image sources on and off to tailor to your particular search (I had to turnPanoramio off for a while due to a bug), and the map includes other bells and whistles, Milholland explains:
The map's crowded collection of symbols from multiple sources reflects a desire to be inclusive and comprehensive of what defines public art. The use of popups to display more information and images is analogous to unwrapping a surprise, or uncovering a piece of treasure. The Stamen Design (Watercolor) basemap options turn the map about art into an artwork. The map is highly configurable, allowing the user to change the background map, turn layers on and off, pan, zoom, and redefine the social media search parameters. The user is invited to discover the public art and define the landscape.
There's also the option to view the city's art as hot density clusters: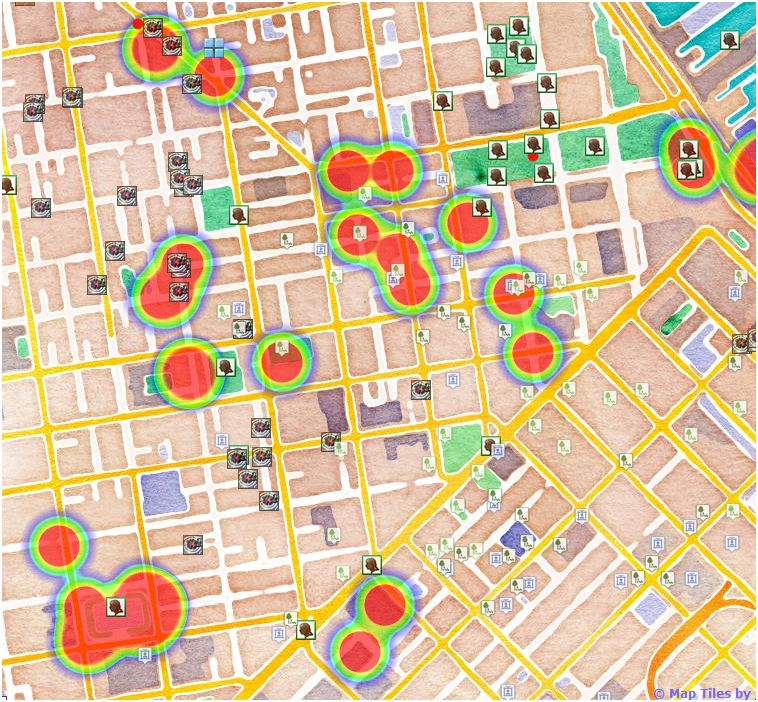 The byte-based guide is not just easy on the eyes, but is becoming a valuable vault for the Bay Area's ephemeral public art. Murals and graffiti pieces are constantly painted over or knocked down, including the aforementioned mutant kitties near Alamo Square: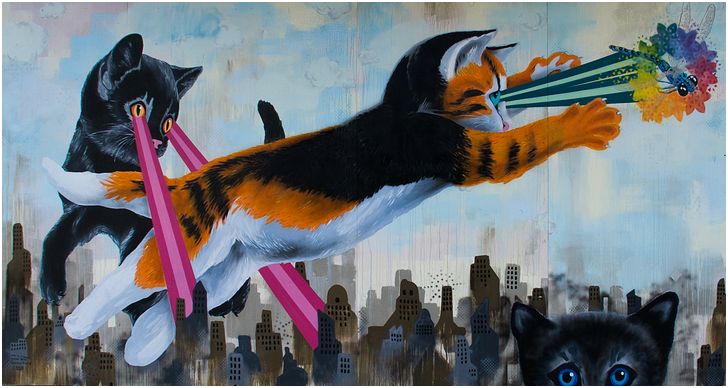 And while the map accommodates more famous works of art, like the Bay Lights, the titanic bow-and-arrow known as "Cupid's Span," and Louise Bourgeois' menacing spider at Pier 14...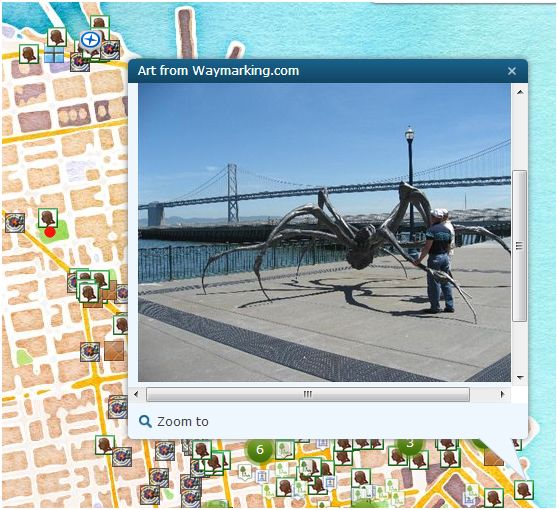 ...it also sucks up a multitude of lesser-known objets that might surprise even those folks who live in the neighborhood. I've roamed far and wide in my time here, and was upset to realize I somehow missed this creepy-looking kid at the Transamerica Pyramid, a whopping great fish at the Sunset District's Ortega Branch Library, mysterious and primitive-looking rock creaturesby the water in lower Dogpatch, and a campy homage to Tron in SoMa: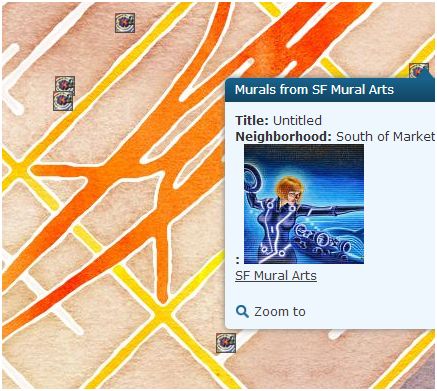 I am also kicking myself for not noticing that JESUS SAVES FROM HELL at the Coliseum and this outsider fence in West Oakland, although my nightmares could've probably not known about the terrifying wraith imploring the heavens at Albany Bulb, a former landfill north of the Berkeley Marina: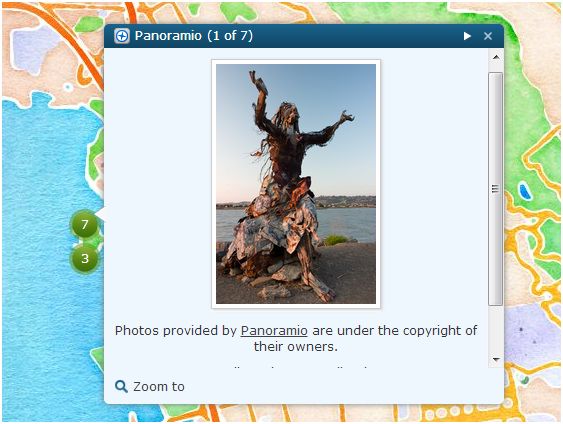 Locals will probably notice the map misses a few things – this tricky "transparent" mural and the Wave Organ thrumming with weird music in the frigid Bay, for example. That's why Milholland is constantly updating it with tips and corrections sent in by the art-loving public. "This is a somewhat daunting task given the wealth of art in San Francisco," she says.
My nomination for the next artifact to go on the map would be the psychotic, skull-crunching "Silly Pink Bunny" in the Lower Haight. Maybe its exclusion was because a residential construction project was going to displace it, which upset lagomorph lovers so much they held a funeral and ritually crushed it. Don't ever say the Bay doesn't care about the art on the corner:
(See original article here)
John Metcalfe You can live in a city all your life and only see about 1 percent of its hidden beauty. That's the message one could easily draw from this crowd-sourced caboodle of