The UNIGIS 2012 Annual Business Meeting was held last week (October 24-28) in Salzburg, Austria and featured more than 30 representatives from partnering Universities and study centers worldwide, including a delegation from USC Spatial Sciences Institute.  Attendees spent three days discussing strategies to advance Geoinformatics in the following core areas: distance learning opportunities, geospatial software interoperability, industry collaboration, and future directions and management of the UNIGIS network.
UNIGIS continues to make substantial contributions at increasing spatial literacy across numerous academic disciplines and industries by producing hundreds of highly qualified graduates each year with training in advanced geospatial technologies. UNIGIS' model of a 'Virtual University of GIScience' which draws upon worldwide teaching competencies from various academic departments has evolved over more than 20 years from an ambitious initiative into a widely recognized and highly regarded set of international qualifications.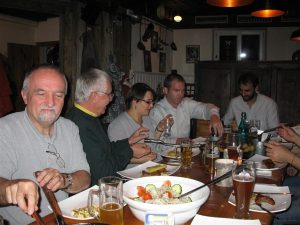 Dr. John P. Wilson, Director of USC's Spatial Sciences Institute, reflected on USC's 15-year membership in the UNIGIS International Association and the various ways the member institutions had helped each other to launch and sustain online programs. "This year, I was keen to learn how other programs were thinking of evolving their program tracks and individual courses to meet future needs and opportunities. Many were actively engaged in thinking about ways to support fundamental science and technology applications on the one hand and the split between proprietary and open source software platforms on the other hand – just like us."
Dr. Darren Ruddell also attended the UNIGIS meeting and was impressed with the commitment of the UNIGIS network to provide resources for geospatial educators to help their students improve spatial comprehension and user experience.
UNIGIS members elected a new board of directors, which will be chaired by Dr. Josef Strobl from the University of Salzburg.  Additional board members include Jasper Dekkers (VU Amsterdam), Gemma Boix (U de Girona), Graham Smith (Manchester MU), and Jacek Kozak (JU Krakow).