Dr. Susy Ziegler, president of Gamma Theta Upsilon (GTU), the international geographical honor society, has announced that SSI's Nu Theta chapter at the University of Southern California has received the Honors Chapter Award for 2019-2020.
Each year the GTU Honors Chapter Award recognizes outstanding chapters achievement. Chapters do this by increasing the number of new inductees over the previous year, presenting at least two events designed to promote geography during the academic year, and by promoting geography on social media.
In notifying the Nu Theta chapter of this award, Dr. Ziegler wrote, "Congratulations on another banner year for the Nu Theta Chapter!" Founded in 2018, SSI's GTU chapter has now received the Honors Chapter Award for two years in a row.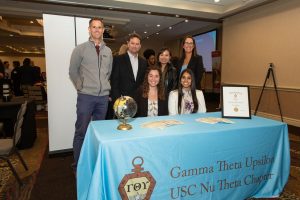 Dr. Jason Knowles, president of the Nu Theta chapter, said, "We remain committed to furthering GTU's mission to promote geography knowledge and awareness. In particular, we further the GTU goals by encouraging high-quality student research and student work towards publishing their research." Dr. Knowles is an adjunct associate professor with SSI and principal of GeoAcuity.
SSI Managing Director Susan Kamei added, "Each year we induct the very best of our undergraduate and graduate students into GTU. We recognize them as academic leaders and contributors to the science that promotes global sustainability and human well-being."
"This award speaks to our students' accomplishments as they apply geographic principles to the pressing issues affecting our environment and society. We congratulate as well our faculty who teach and mentor them. The Spatial Sciences Institute is proud to sponsor an active GTU chapter here at USC and thank GTU for this honor," said John P. Wilson, professor and founding director of the Spatial Sciences Institute.
The Nu Theta chapter will co-sponsor the fourth annual USC-UCLA mapathon challenge in October. Check the SSI website for other events presented by the Nu Theta Chapter during this academic year.
For more information about GTU and the Nu Theta chapter, please contact Susan Kamei at kamei@usc.edu.