LOS ANGELES — GIS experts from industry and academia from the greater Los Angeles region met Monday in downtown for a daylong event to share current innovations and opportunities in geospatial research and applications. Over 100 attendees participated in the meeting, which included keynote and lightning talks in addition to sessions dedicated to emerging geospatial innovations.
The meeting was organized by a steering committee with representatives from area universities stretching from California State University, Channel Islands to Cal Poly Pomona and Cal State Long Beach and points between.
Boykin Witherspoon III of the CSU San Bernardino Water Resources Institute delivered the first keynote address, describing his campus' successes using GIS to deliver and manage data to support campus sustainability decisions.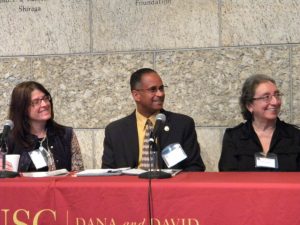 A second keynote by Johnson Kosgei, geospatial specialist at Red Bull, described the growth of geospatial capacity at the energy drink maker from startup through enterprise deployment.
Students benefitted from two panels of experts.  The first reviewed the opportunities for GIS education in the region at the many universities, including UCLA, CSU Northridge,CSU Channel Islands, Cal Poly Pomona, and USC.  The second featured agency and business representatives sharing the various internship opportunities and pathways for students.
After the conference, Red Bull's Kosgei said, "I appreciated the way the organizers went out of their way to prepare students to meet the challenges of real-life applications."  About the prospects for students in geospatial careers, he advised, "Swim with the currents but keep the goal in sight. With effort and determination things are possible!"
A highlight of the day was the lightning talk session for graduate student research.  These included topics as diverse as wetland mapping, fire management, and the shifts in the distribution of murders in murders over the 2000s.
After the conference, a group of undergraduate students attending from Cal State Channel Islands with Professor Christopher Cogan shared that the summit allowed them to envision a career path in the spatial sciences and opened them up to new possibilities.
The summit was sponsored by the USC Spatial Sciences Institute and Esri.