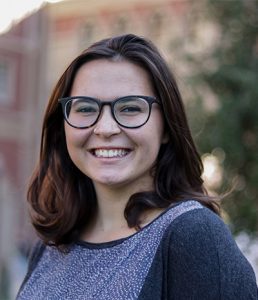 Nadia is concurrently completing her undergraduate degree in Economics and Master of Science in Spatial Economics and Data Analysis (SEDA) at the University of Southern California's Spatial Sciences Institute.
For her entire life, Nadia has been a huge advocate for the environment. She spent her pre-collegiate time volunteering for the Nature Conservancy. For her role, she received the 2016-2017 Wangari Maathai Award for Civic Participation in Sustainability. After spending a year in Hamburg, Germany, one of the world's most sustainable cities, she decided to study economics for her undergraduate degree. She is interested in environmental economics and the intersection of economics with disciplines like environmental science and urban studies. Nadia wanted to build a technical skillset to help her do this kind of analysis.
She found the Spatial Studies Institute during her first year at USC taking SSCI 350: International GeoDesign. In this course, she spent two weeks in Amsterdam and one week in Germany and worked with geospatial technologies for the first time. During that course, she wrote a capstone paper using experiences in these cities to help inform urban design along the Los Angeles River.
As a USC student, she has been involved in research from German lobbying spending in the USA and its effects to comparative urban development.
After graduating, she hopes to work either as an Environmental, Social and Corporate (ESG) analyst or as a maps analyst for a tech company. She also would love an opportunity that would bring her back abroad, should one arise!