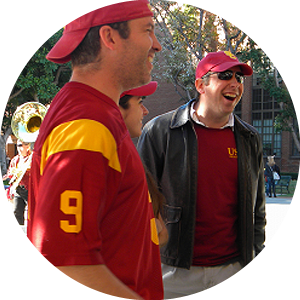 Join the Spatial Sciences Institute faculty, staff, students, and alumni at the SSI tailgate prior to the Homecoming game.  For more information and to RSVP, contact Melissa Salido at msalido@usc.edu.

Upcoming Events
No Events
Past Events
March 31, 2022 @ 3:00 pm - 4:00 pm
Learn how you can be part of the inaugural cohort in the new MA in Global Security Studies Program, starting in Fall 2022.  Meet with leading international relations, global security and geospatial science faculty experts as they discuss the curriculum and opportunities for multi-faceted individuals to develop and implement creative and effective policies that address complex challenges such as environmental vulnerability, public health crises, food and resource scarcity, regional conflict, cyber attacks and other natural and manmade causes of human insecurity.
---
November 07, 2015 @ 4:30 pm - 7:30 pm
Join Spatial Sciences Institute faculty, students, alumni, staff, and friends at the SSI tailgate prior to the 2015 Homecoming game as USC takes on Arizona in the Coliseum on Saturday,...
---