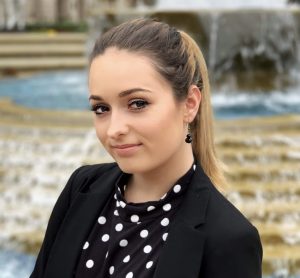 As a B.S. in Global Health major, I wanted to ensure that my education equipped me with the cutting-edge tools and critical perspective necessary to address health inequities and confront future epidemics.
Knowing nothing about geographic information science (GIS), I began an independent research project analyzing the burden of waterborne infectious disease in rural communities along the U.S.-Mexico border. The work combined epidemiological methods with spatial analysis to visualize the disparate conditions faced by those living along the border. I would have never known how to use GIS, let alone be able to complete this research project, if it hadn't been for the support of the Spatial Sciences Institute's faculty who offered resources and guidance along the way.
I am confident that my minor in Human Security and Geospatial Intelligence has prepared me for a meaningful career in global health. The interdisciplinary coursework has pushed to think beyond the confines of my own field, and consider topics like national security, climate change, cultural trends and data analytics.
These lessons don't only come from the classroom—the Spatial Sciences Institute's hands-on internship opportunities and the faculty's immense support of research is truly unmatched. My experiences with SSI and the HSGI minor have been some of the most impactful moments of my college career.
Upon graduation, I am excited to dive into increasingly complex health challenges and hope to make a difference using spatial science.