SSI's Kristiane Hill revolutionizes fossil recovery at the La Brea Tar Pits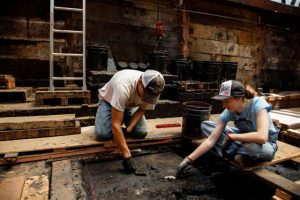 During the Ice Age when giant ground sloths, saber-toothed cats and dire wolves roamed the earth, a pool of sticky asphalt bubbled away. Some of these long-extinct animals ventured too close to this pool and became trapped in the black goo.
More than 25,000 years later, this asphalt trap is now known as the La Brea Tar Pits, located in the heart of Los Angeles. With excavations starting in 1915, the Tar Pits in the Hancock Park neighborhood is one of the world's longest-running urban paleontological excavation sites, a rich treasure trove of skeletal remains, plant material, insects, shells, and other evidence of how flora and fauna life in Southern California has evolved since the late Pleistocene epoch.
For over one hundred years, paleontologists have been manually documenting the in-situ location of the discovered fossils in non-spatial databases. But recently Kristiane Hill, a 2018 graduate of the USC Spatial Sciences Institute's M.S. in Geographic Information Science and Technology (GIST) Program, has changed all that. She has developed a method for using three-dimensional geospatial technologies to accurately document the substrata location of fossils prior to their removal to provide a digital reconstruction of their real-world placement in support of further analysis after their extraction.
Hill developed this revolutionary geospatial approach with her thesis advisor, Dr. Jennifer N. Swift, associate professor (teaching) of spatial sciences, who has a geology background. Hill and Swift worked with La Brea Tar Pits and Museum scientists Aisling Farrell, Carrie Howard, and Emily Lindsey.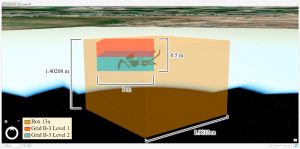 The museum scientists identified nineteen fossils from one asphalt pit as a sample set for mapping and took high-resolution 3D scans of these fossils. Hill then undertook extensive processing of these scans and converted the locality data for each fossil gathered in the traditional paleontological manner into real-world, subterranean geographic coordinates. She then imported the 3D objects into a 3D geographic information science (GIS) map beneath the earth's surface.
As a result, Hill's 3D model enables scientists to engage with an interactive, GIS-enabled visualization of the nineteen fossils in their original sub-surface pre-excavation locations and orientations.
Swift said, "With Kristiane's methodology, paleontologists and other scientists have greatly enhanced capabilities to interpret and analyze fossil and archaeological and paleontological finds with this 3D knowledge of their precise pre-excavation positioning."
The next step, according to Hill, is to continue to geolocate and visualize newly discovered fossils and artifacts within the museum grounds, as well as to geolocate and digitially vizualize many more that were excavated manually in the past. Testing is underway using handheld global positioning system (GPS)-enabled devices to precisely locate and orient objects in-situ, which will significantly shorten this methodology.
The applications of Hill's protocol are far-reaching. "The techniques used in this protocol can be applied or adapted to other studies in paleontology, archaeology and many other fields that could be advanced by 3D spatial analysis," said Hill.
The team's research was published this month in Digital Applications and in Archeology and Cultural Heritage.
Learn more about the USC Spatial Sciences Institute's online M.S. in Geographic Information Science and Technology Program at https://gis.usc.edu.