May 04, 2021 @ 11:00 am - 12:00 pm
The University of Consortium for Geographic Information Science (UCGIS) presents a webinar "Machines Reading Maps" by Yao-Yi Chiang, Associate Professor (Research) of Spatial Sciences of the USC Spatial Sciences Institute and Associate Director of the USC Data Science Institute.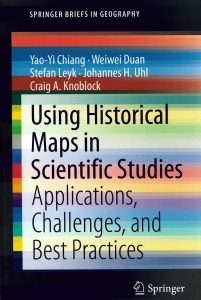 Chiang will discuss an end-to-end approach to address the real-world problem of finding and indexing historical map images. This approach automatically processes historical map images to extract their text content and generates a set of metadata linked to large external geospatial knowledge bases.
An expert in digital map processing, pattern recognition, and geospatial information systems (GIS), and predictive analytics, Chiang also teaches data mining, spatial databases, and mobile GIS.
Register here: https://attendee.gotowebinar.com/register/7045803964643079692
---
Date/Time
May 04, 2021 @ 11:00 am - 12:00 pm