SSI honors Esri's Joseph Kerski for his contributions to GIS education
"What was your 'nudge moment' – that point when you discovered a passion for GIS?," asked  Dr. Joseph Kerski, education manager with Esri, when he visited the Spatial Sciences Institute (SSI) at the University of Southern California on January 31, 2020.
Kerski brought his enthusiasm for all things mapping and geography as he met with SSI students, faculty, and colleagues from across the university throughout the day.
A highlight of his visit was Kerski's presentation on "5 Forces – 5 Trends – 5 Skills: Geoawareness, geoenablement, geotechnologies, citizen science and storytelling." Dr. Laura Loyola, lecturer and SSI's director of undergraduate studies, said, "Dr. Kerski oriented us to how these forces and trends are playing out in this new decade, and how the five skills of geoawareness, geoenablement, geotechnologies, citizen science and storytelling enable our future GIS professionals in charting their own pathways."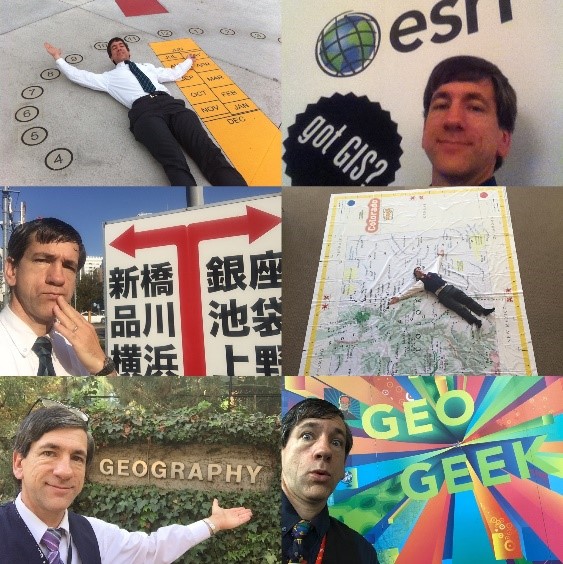 "As always, Dr. Kerski's energy is contagious and we had fun and lively discussions with him. For those of us who teach as faculty and teaching assistants, we also learned many helpful techniques and insights for incorporating real time data into spatial analysis and visualizations," Loyola added.
In recognition of Kerski's long-standing support to the faculty and students of the Spatial Science Institute and to the world of GIS education, Dr. John P. Wilson, SSI's founding director and professor, presented him with a freshly-minted SSI challenge coin.
"This coin, especially designed for the Spatial Sciences Institute, represents the values of excellence that are at the heart of what we do. When we present a SSI challenge coin, we are honoring the significant contributions that the recipient has made to our organization. Bestowing the coin also signifies that the recipient is 'one of us' and that we value the individual as part of our community. We are proud that Joseph is the first recipient of our SSI challenge coin and hope he will return again soon," explained Wilson.
Kerski said, "Innovation in education isn't a given—it takes vision, long hours of hard work, and dedication of university administrators, faculty, and students alike. I have long regarded the Spatial Sciences Institute as a force for innovation and a force for good in education and society.  I salute their accomplishments, and look forward to our future collaboration."
Watch Kerski's video he made of his visit.