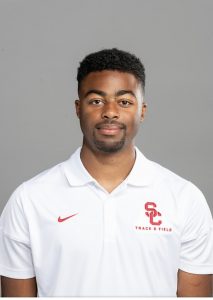 As a student-athlete on the Men's Track & Field team, many would assume that my academic interest would be related to sports or communications, but that's not the case. Ever since I was 7 years old, I had a passion and fascination for the raw power of mother nature. In the subsequent years that passion evolved into after-action aide and support immediately following a natural disaster or a global crisis. Growing up in Central Maryland, I lived through historic snowstorms, floods and the infamous Hurricane/Superstorm Sandy. Maryland recovered pretty well, but other regions do not have the same resources at their disposal to recover in an efficient manner, i.e., Puerto Rico.
My #1 goal in life is to make an impact in establishing world peace during crisis events. Human Security and Geospatial Intelligence (HSGI) provides the opportunity to reach my goal and learn how nations react during times of crisis and develop efficient methods to establish harmony and safety in a battered region.
At USC, I serve as the Community Outreach Officer for the newly-formed United Black Student-Athlete Association (UBSSA). I also am the founder and operator of "Off The Track Podcast," a platform for USC Track & Field athletes to express their thoughts and feelings. In 2020-2021, I am excited to be serving in the Virtual Student Federal Service (VSFS) Internship program.
After graduation, I plan on pursuing a master's degree while I compete professionally in track and field, then I will pursue career opportunities in the intelligence field with either the CIA or DIA. FEMA is also a possibility, as my uncle is a former employee of the agency.