On Thursday, October 5, 2017, Dr. Jeremy Mennis, Professor of Geography and Urban Studies at Temple University, delivered the inaugural address in the Ph.D. Program in Population, Health and Place Colloquium Series. Dr. Mennis spoke on "GIS, the Environment, and Health Behaviors: Lessons from the Study of Addiction."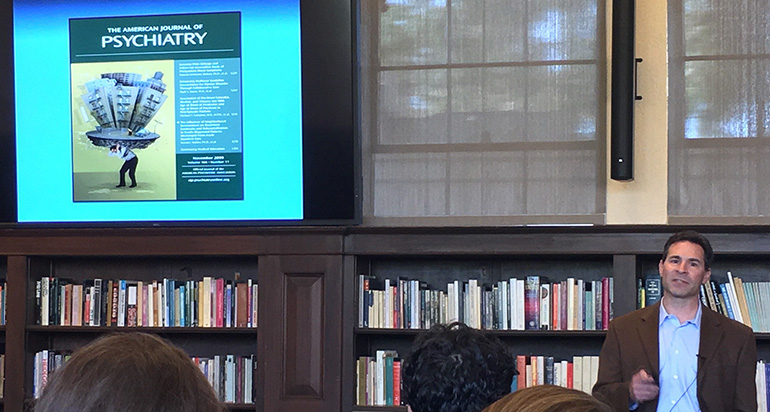 Drawing upon his teaching and research interests in Goegraphic Information Science (GIS) and its applications to urban environment, crime, and health, he shared how his recent research is focusing on the integration of geospatial technologies with ecological momentary assessment (EMA) to study the influence of social and geographic mechanisms on adolescent substance use.
During his visit to USC, Dr. Mennis met with the doctoral students in the Population, Health and Place Ph.D. Program and its faculty from the USC Spatial Sciences Institute, the USC Department of Sociology, and the Keck School of Medicine of USC Department of Preventive Medicine, in addition to colleagues from the USC's program in gerontology and psychiatry.
Dr. Mennis has served as chair of the Geographic Information Systems and Science Specialty Group of the Association of American Geographers (AAG), and on the Boards of Directors for both the GIS Certification Institute (GISCI) and the University Consortium for Geographic Information Science (UCGIS). He has published over 80 articles, chapters, and monographs has received research funding from the National Institutes of Health (NIH), National Institute of Justice (NIJ), and National Science Foundation (NSF).  He earned a Ph.D. in Geography from Pennsylvania State University in 2001 and is a certified GIS Professional.
View the recording of his talk.