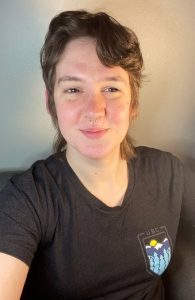 Dr. Avery R. Everhart, a 2022 graduate of the USC Population, Health and Place doctoral program, is joining the Geography Department at the University of British Columbia as a tenure-track assistant professor of GIS, Cartography and Transformation as of July 1, 2023.
A social and spatial scientist with expertise in transgender health and human rights, and intersectional approaches to addressing inequality, Dr. Everhart is currently a Postdoctoral Research Fellow and Research Investigator in both the School of Information, and the Department of Health Behavior & Health Education within the School of Public Health at the University of Michigan.
She is a leader in the emerging field of applied transgender studies. Her work bridges empirical analysis and humanistic theory building to advance our understanding of the social, cultural and political conditions of transgender lives as they are lived. Her research applies cutting edge methods, drawing from geographic information science and geomatics, health and bioinformatics, and demographic data and information to push for more and better data on transgender life.
Dr. Everhart is a co-founder, Director of Finance, and a Distinguished Fellow at the Center for Applied Transgender Studies, an independent non-profit which focuses on identifying, analyzing and ultimately proposing solutions to the problems transgender and gender diverse people face.
Through her work with the Center, she also co-founded the Bulletin of Applied Transgender Studies, where she serves as Reviews Editor. The platinum, open-access journal aims to bridge the gaps between humanistic, social scientific and STEM approaches to studying trans communities.
SSI Founding Director John P. Wilson, Ph.D., said, "On behalf of all of us here at the Spatial Sciences Institute, I extend heartiest congratulations to Avery for her appointment to a wonderful department at a prestigious university. We are all very proud of her many accomplishments, and we look forward to continuing opportunities to collaborate with her in her research."
To learn more about Dr. Everhart's work as a trans geographer, visit her website and follow her on Twitter.