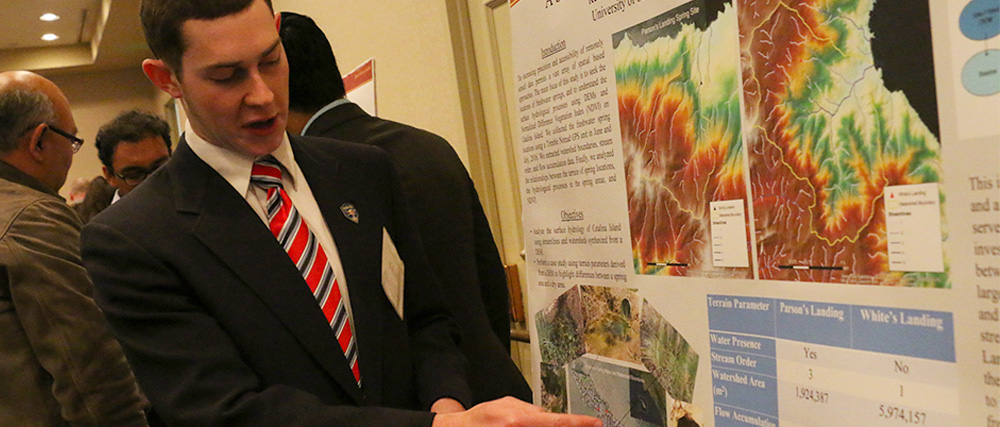 Capturing the geospatial potential in the digital revolution
To kick off the USC Spatial Sciences Institute February 24, 2017 Los Angeles Geospatial Summit, Manish Dasaur, managing director for Accenture Digital for North America, delivered the opening keynote on the enormous potential for the geospatial industry in the digital revolution. An expert in using analytics to lead corporate clients into embracing digital disruption, Dasaur highlighted that:
90% of the world's data has been created in the last two years. But at the moment, less than .5% of all data has ever been analyzed and used;
the "Digital Economy" has grown six times faster than the economy in the past year; and
the geospatial industry is expected to grow by more than 50% in five years.
Dasaur described industry leaders as those who pervasively use contextual and predictive analytics to drive intelligent decision making and who invest heavily in advanced analytical capabilities (those who do, outperform the S&P 500 on average by more than 50%). In addition, he relayed that 85% of executives report they will invest extensively in AI-related technologies over the next three years, making "AI the next UI."
He advises companies and organizations to take advantage of the "democratization of data" to gain meaningful insight into data, which is leading to the formation of new industries and making existing industries more efficient with new delivery disciplines. Because technology is changing so quickly, the key, said Dasaur, is to have partners: "if you want to go fast, go alone – if you want to go far, go together."
The rest of the Geospatial Summit program built upon this theme of collaboration and cross-cutting partnerships in geospatial research and development activities.
Lilian Coral, Chief Data Officer, and Sari Ladin, Data Fellow, shared the vision of Los Angeles Mayor Eric Garcetti's data team to use city analytics to inform its decision-making. In particular, they have been working with a USC Spatial Sciences Institute student research team to use spatial data to understand micro-trends on the street level, leading to more targeted and efficient delivery of community services. The keys to success in this academic-city partnership have been having a multi-disciplinary team with backgrounds in urban planning, political science, computer science, and other disciplines around a spatial sciences core, and working in a "consultancy" environment with clear targets, time frames, and communication as they collaboratively developed a web map application to analyze public safety trends.
Dr. Kenneth W. Hudnut, science advisor for Risk Reduction, Natural Hazards Mission Area, the U.S. Geological Survey, described the USGS priority to work with partners to accomplish risk reduction and improve societal resiliency in catastrophic earthquake scenarios. For example, projects which the USGS has with Mayor Garcetti's office include preparing for large-scale fires which are predicted to happen after a major earthquake and anticipating supply chain disruption. Dr. Hudnut also described the new west coast LiDAR data set, capturing imagery on the changes of the west coastline, especially as our weather patterns continue to change and affect the topography of the region.
Students from the USC Spatial Sciences Institute, California State University Long Beach, and the University of Redlands shared their research in lightning talks and posters, and networked with students attending from UCLA, California State University Dominguez Hills, and other regional academic programs at the Summit's lunchtime "Knowledge Network" tables. Representatives from California Surveying and Drafting Company, Esri, Northrop Grumman, SoCal URISA, US Geological Survey, and Women in GIS talked with students about career resources and opportunities.
The afternoon panel explored the opportunities resulting from the explosion in the availability and use of drones (small unmanned aircraft systems or UASs), projected to generate more than $82 billion and 100,000 new jobs over the next 10 years in the U.S. alone. A panel comprised of Dr. Yao-Yi Chiang, assistant professor (research) with the USC Spatial Sciences Institute, Dr. LTC Ian Irmischer, assistant professor, GISc Program, with the United States Military Academy, Dr. Jason Melbourne, data engineer, with AirMap, and Dana J. Poirier, GXP general manager, Geospatial Exploitation Products, with BAE Systems discussed leveraging GIS technologies to create data infrastructures for safe and efficient drone navigation and developing new applications and innovative ways to maximize the potential uses of drones and drone-enabled datasets. These innovations are coming about through collaborations between the military, private industry, and academia.
The summit concluded with a discussion of mentorship and the value of connecting and learning from others. SSI Professor Travis Longcore moderated a panel with Melisa Caric Lee, GISP, president of Compass Rose GIS and SoCal URISA leader, her "mentee" Shawn Oliver, GIS analyst, and Dr. Suzanne P. Wechsler, associate professor, at California State University Long Beach.
Over 200 industry professionals, students, alumni, and faculty attended the 2017 Geospatial Summit at the USC Radisson Hotel. 2017 Summit sponsors were California Surveying and Drafting Company, Esri, the California Geographic Information Association, and the USC Spatial Sciences Institute.
The 2018 Geospatial Summit will return to the USC Radisson on Friday, February 23, 2018.
For 2018 program and sponsorship opportunities, please contact Susan Kamei, managing director, USC Spatial Sciences Institute, at kamei@usc.edu or (213) 740-1375.