Dr. Jennifer N. Swift, Spatial Sciences Institute liaison with the Esri Innovation Program (EIP), has announced that Megan White (M.S. GIST '20) is the Institute 2021 EIP student of the year.
"Congratulations to Megan for this prestigious award," said Swift, associate professor (teaching). "The selection committee was impressed with her submission 'Cal ToxTrack: A Full Stack Web GIS for Mapping Pollution in California,' in which she made novel and highly effective use of Esri's Python tools," added Swift.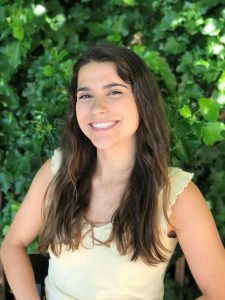 White has created an innovative web mapping application using a combination of Esri and open source technologies in a full stack approach to deliver critical information to the public about the major chemical emergencies in California that have occurred over the past several decades. Her work is novel because she focused on the public's right-to-know about local toxic chemical releases. White built the back- and front-ends of the application following an MVC programming architecture. The data handling included Esri's ArcGIS REST API, R-Studio, PostgreSQL, GeoDjango, and Leaflet.
"The committee felt that Megan's robust approach provides a public service and social benefit by directly linking previously obscure toxic chemical release information to the original data sources readily accessible to a broad audience. Cal ToxTrack is a straightforward, user-friendly interface that enables Californians to explore local pollution information," explained Swift.
White developed this application as part of her master's thesis in the USC M.S. Geographic Information Science and Technology (GIST) Program. White's thesis advisor was Dr. Jennifer M. Bernstein, who has expertise in environmental issues in the American West.

"I'm thrilled to receive this award," said White. "I hope to use my skills in full stack web development to build geospatial web application for environmental sustainability and public awareness. My goal is that my research and application will inspire collaborations with a new community of developers to expand on this work in the future," she added. White is a technical support engineer for Mapbox in San Francisco.
The Spatial Sciences Institute has collaborated with Esri since 2010 in recognizing the outstanding contributions of USC students to the development of pioneering GIS-based tools, techniques or models.
For more information about the USC EIP Student of the Year competition, visit https://spatial.usc.edu/esri-innovation-program/ or contact Dr. Swift at jswift@dornsife.usc.edu.