The Spatial Sciences Institute is part of the Esri Innovation Program (EIP), a consortium of university entities that Esri recognizes as having exemplary programs focused on educating students in ways that promote the design and development of GIS applications using Esri's web, mobile and desktop geospatial technologies.
Students enrolled in any of the Spatial Sciences Institute undergraduate and graduate academic programs are afforded special access to Esri software, training and conferences, as well as special opportunities to be recognized for their accomplishments.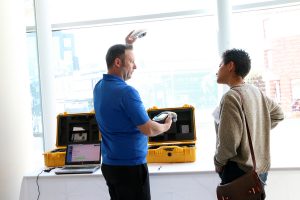 EIP Student of the Year Award
As an institution that is part of EIP (formerly the Esri Development Center program), the Spatial Sciences Institute organizes the USC EIP Student of the Year competition and participates in the Esri Developer Summit that is held in Palm Springs, California in March every year.
The EIP Student of the Year competition is open to all students currently enrolled in one of SSI's academic programs:
The award recognizes the exemplary contributions to the development of novel GIS-based tools, techniques or models.
To apply, please forward a 1,000-word extended abstract describing your project and the novel aspects that advance the design and development of applications using Esri's web, mobile, cloud and desktop geospatial technologies to Dr. Jennifer Swift. A faculty committee reviews the abstracts and selects one winner each year.
The USC EIP Student of the Year Award includes the winner's name inscribed on a nameplate on a perpetual plaque displayed in the Spatial Sciences Institute, a small cash prize (currently $500) from Esri, and the opportunity to make a presentation at the Esri Developer Summit.
The USC awardee's project also may be entered in the International EIP Student of the Year competition by the faculty evaluation committee. The winner chosen by Esri receives a plaque, a cash prize and registration, hotel, and travel funds to attend an award ceremony at the Esri User Conference held in San Diego, California in July each year.
Eligibility
Those who apply must be currently enrolled in one of the aforementioned academic programs in the semester in which they apply or they must have completed one of these programs in either spring or fall semesters in the previous year (e.g., 2022 if applying to the 2023 EDC competition).
The work must have been completed within the prior 12 months.
Applicants must be able to provide copies of the final work product (GIS tools, software, models, websites, mobile apps, multimedia, etc.) to the faculty evaluation committee upon submission of the application.
Judging Criteria
Level of creativity and innovation.
The novelty of the approach, design or system.
Potential for the project deliverables to help demonstrate and/or emphasize the efficacy of using GIS to solve real-world problems.
Important Dates
2/27/23          Deadline for submitting extended abstract
3/1/23            USC winner selected and notified
3/7/-10/23     Esri Developer Summit, Palm Springs, CA
7/10-14/23    Esri User wConference, San Diego, CA
USC EDC/EIP Student of the Year Winners
2023 - John Pedigo
2022 - Natalie Treadwell
2021 – Megan White
2020 – Cass Kalinski; Joseph John Livoti II, Honorable Mention
2019 – Joseph C. Toland; Michael Babcock, Honorable Mention
2018 – Brian Everitt; Allen Branch and Philip Conner, Honorable Mention
2017 – Kelly Wright
2016 – Kacey Pham
2015 – Sima Moghaddam
2014 – Chris Weidemann
2013 – Nancy Milholland
2012 – Kaveh Shahabi
2011 – Ronald Lehman
2010 – Daniel W. Goldberg
Contact:
Dr. Jennifer N. Swift
Spatial Sciences Institute
EIP Program Liaison
AHF B57D
(213) 740-5841
jswift@dornsife.usc.edu