2016 Los Angeles Geospatial Summit speakers offer tips for becoming a successful geospatial professional
What career advice could you give to individuals starting out as a geospatial professional? What is the best career advice you have received?
Geospatial leaders answered these questions and more at the USC Spatial Sciences Institute's February 2016 Los Angeles Geospatial Summit for the benefit of young professionals, including students and alumni from Southern California geospatial academic programs.
Melisa Caric Lee, president of Compass Rose GIS, highlighted the value of internships and making professional connections. "Intern at a number of places, not just one," said Caric. Darryl G. Murdock, vice president of professional development of the U.S. Geospatial Intelligence Foundation, added, "Unpaid internships lead to paid internships – which lead to jobs."
Wherever you are, said Caric, "meet people and nourish those relationships. Join professional organizations and stay involved."
Caric shared that as a student, she joined URISA, a leading organization for GIS professionals, and has gone on serve in leadership roles in URISA at the chapter and national levels. "I've made great connections through my involvement with URISA and have been able to contribute in meaningful ways," Caric added. "There are many organizations in which you can become involved."
Douglas M. Morales described himself as a "non-traditional geo-geek" who learned about GIS as a Master of Public Health student. Now principal GIS analyst and GIS coordinator for the Los Angeles County Department of Public Health Office of Health Assessment and Epidemiology, Morales got excited about GIS when he learned about John Snow's seminal 1854 cholera map in an epidemiology course. He followed up on that excitement by taking a number of GIS courses, and now has taught GIS courses in many institutions. Similarly, Isaiah Mack, manager of California Surveying and Drafting Supply Inc., discovered GIS while he was earning his masters in a geography program and went on to earn a graduate certificate in GIS and technology. The morale of their stories: take classes outside of your discipline.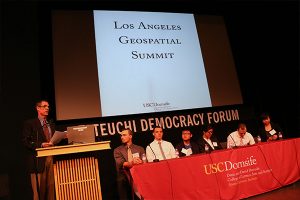 Los Angeles County Geographic Information Officer Mark Greninger concurred with the importance of having interdisciplinary knowledge and skills. "As more GIS jobs come about in industry, they will require interdisciplinary and cross-cultural backgrounds," advised Greninger. The speakers stressed the importance of serendipity and taking advantage of every opportunity. Caric advised, "Be open-minded when opportunities arise and say 'yes.' Be willing to become an instant expert on new fields." Morales added, "Organizations and companies have their own acronyms – learn them."
The leaders all stressed the importance of developing "soft skills." Lenora P. Gant, National Geospatial-Intelligence Agency (NGA) senior executive for academic outreach and STEM, said, "You will never work alone. We need individuals with high emotional and social intelligence."
Caric, Morales, and Murdock all agreed on the importance of time management skills and the ability to meet deadlines to get jobs done. Heads nodded when Morales said, "You will be given projects today for deadlines due yesterday."
Murdock emphasized the need for strong presentation skills. "In every context, you need to be able to convey information effectively and communicate well," said Murdock. John P. Wilson, founding director and professor of the Spatial Sciences Institute, pointed out the importance of knowing your audience and pitching accordingly.
This skill is particularly important, alerted Morales, because you will need to talk with "gatekeepers of data." Morales explained, "You'll need to describe what you can and want to do with their data and what your GIS goals are in non-technical terms." Said Morales,
"Be an evangelist of GIS."
Gant advised individuals starting out in their careers to keep their options open – for example, one never knows if future opportunities will require a security clearance. "Be careful about your social media practices," said Gant. She added, "To work in the federal government, you need to be ethical in every way to pass background checks and a polygraph test."
The speakers concluded with the observation that no matter what stage of career one is at, professional development is an ongoing process. Morales said, "Think of education as your foundation, and then keep building upon that foundation with additional training. Make yourself really uncomfortable – envision a better you."
Caric closed: "You are doing the right thing by being here today."
~~~~~~~~~~~~~~~~~~~~~~~~
The Spatial Sciences Institute will present the 2017 Los Angeles Geospatial Summit on Friday, February 24, 2017, at the Japanese American National Museum in Los Angeles, California.