The
USC Spatial Sciences Institute
interdisciplinary minor in Human Security and Geospatial Intelligence aims to educate future leaders in location-based analytics to gather, interpret and implement actionable intelligence to promote human security. This minor is relevant to any undergraduate aspiring to work within the
U.S. Department of Defense
, U.S. State Department, and related U.S. and international support agencies; humanitarian organizations; and global health entities.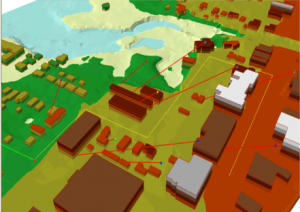 Threats to human security stem from wide-ranging sources, which include natural disasters (e.g., earthquakes, hurricanes and floods) as well as human origins (e.g., terrorism, humanitarian crises and political violence). As the modern world becomes more interconnected, government agencies, scholars and global citizens need to understand where human security is stable and unstable throughout the world, and decision-makers need the knowledge and capacity to quickly assess and act to provide humanitarian aid during a crisis. This interdisciplinary minor serves to connect many collaborative and interrelated disciplines to provide a framework for students interested in learning how to develop and deliver analytical and spatial solutions.
The Human Security and Geospatial Intelligence minor especially complements majors in:
International Relations;
Political Science;
Environmental Studies;
Global Health;
Middle East Studies;
Central European Studies;
GeoDesign;
Policy, Planning, and Development; and
all students (regardless of major) actively enrolled in one of USC's ROTC programs (Navy, Marine, Air Force or Army).
ROTC students have the additional benefit of choosing from a Military Science (MS), Aerospace Studies (AEST) or Naval Science (NSC) course sequence to complete their upper-division elective requirement.
What is Geospatial Intelligence (GEOINT)?
GEOINT is actionable knowledge, a process, and a profession. It is the ability to describe, understand and interpret to anticipate the human impact of an event or action within a spatio-temporal environment. It is also the ability to identify, collect, store and manipulate data to create geospatial knowledge through critical thinking, geospatial reasoning, and analytical techniques. Finally, it is the ability to present knowledge to support decision-making.

Learn more about "Perspectives on Intelligence Collection."
SCHOLARSHIPS, INTERNSHIPS AND JOBS
• US Geospatial Intelligence Foundation (USGIF) Scholarship Program
• US Geospatial Intelligence Foundation (USGIF) Career Center
• ASPRS Scholarship Program
• National Geospatial-Intelligence (NGA) Summer Internship Program
• American Geographical Society (AGS) Scholar-Internship Program
• NASA DEVELOP Program
• American Association of Geographers
• Pat Tillman Foundation Scholarship Program
CURRICULUM
4 units of lower-division elective (choose one below):
3 required courses (12 units):
Role of maps and spatial reasoning in the production and use of geographic information for representing and analyzing human and environmental activities and events.
Introduction to basic geospatial intelligence knowledge and related practical skills that assist in informing decision-making in a variety of human security settings.
Choice of:
The role and evolution of espionage and intelligence as tools of statecraft are examined. Open, covert, clandestine, counterintelligence programs and oversight processes are considered.  ornational security policy; political/social constraints, and military justice.
Explore causes of human security threats, challenges to state sovereignty, and actions to address failed states, conflicts and protect people through humanitarian intervention.
4 units of upper-division elective (choose one below):