Be part of a global GeoDesign community!

SC Mappers aims to provide students the opportunity to utilize Geographic Information Systems ("GIS") technologies and mapping techniques. Members utilize open-source data for mapping projects ranging from activities to familiarize students with GIS technologies to mapping areas around the world struck by disaster. Students also work with other members of the mapping community, including other student organizations at other universities. In doing so, SC Mappers help its members advance their academic and personal goals of developing their GIS skills.
As one example, SC Mappers conducted the first-ever "Battle of Maps" on Wednesday, November 15, 2017, in which USC students and faculty raced against the clock with UCLA students and faculty to determine which university team could make the most map edits for the Humanitarian OpenStreetMap Team. The mapathon was part of USC's International GIS Day observances and coincided with a day in USC-UCLA Challenge Week. Read more about the 2017 "Battle of Maps."
SC Mappers is the University of Southern California chapter of YouthMappers, an international university consortium on Mapping for Resilience.
The members of the inaugural SC Mappers Executive Board for 2016-2018 were: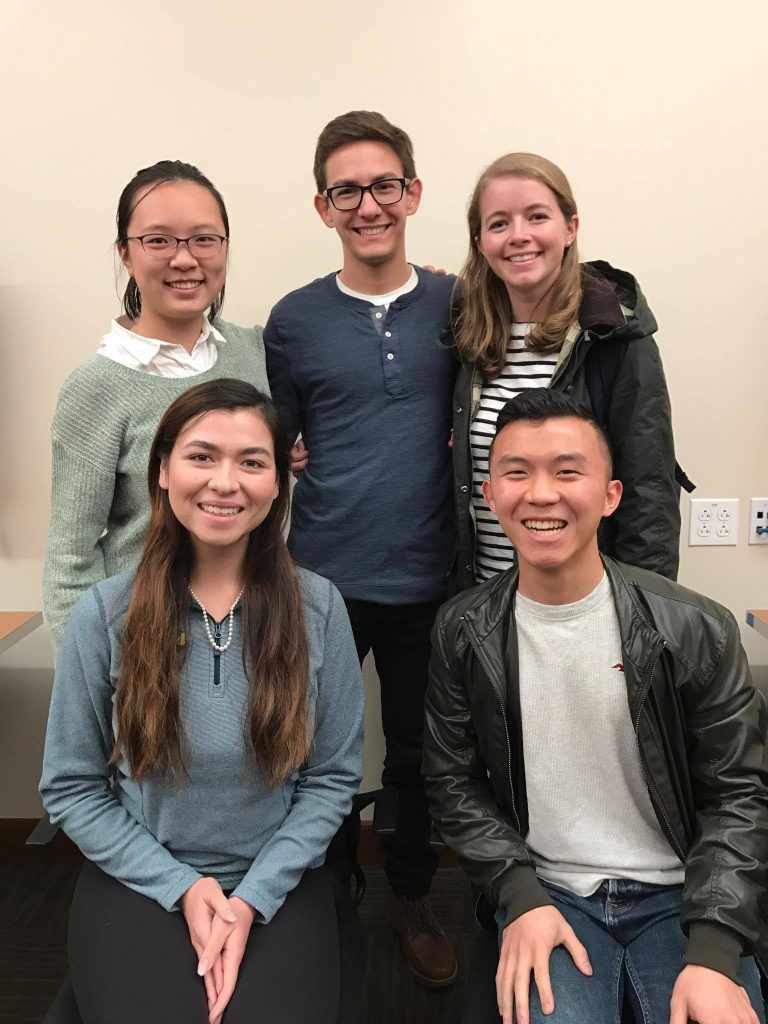 President: Robin Franke
Vice President: Alex Chen
Secretary/Treasurer: Joanna Wang
Program Director: Natalie Millstein
Publicity Director: Rich Windisch
Congratulations to the inaugural board for receiving the YouthMappers 2018 Women's Participation Award for engaging a majority of female student mappers in its YouthMappers chapter leadership and membership!
And congratulations to the 2017-2018 SC Mappers E-Board:
President: Sam Levi
Vice President: Lauren Mullarkey-Williams
Program Director: Mia Poyner
PR Director: Yen Nguyen
Finance Director: Jenna Gray
Professor Lisa Sedano is the faculty advisor of this student organization, officially recognized by USC Student Affairs.
We welcome your participation! To get involved and to receive announcements of our upcoming mapathons and other future activities, email us at scmappers@usc.edu and follow us on Facebook.
Each year the USC Dornsife Spatial Sciences Institute faculty and students participate in the world-wide celebration of GIS Day on November 19th. First organized in 1999, GIS Day is a grassroots global effort by users of geographic information science (GIS) and technology to demonstrate real-world applications that are making a difference in our society.

On GIS Day 2017, the USC Spatial course SSCI 301: Maps and Spatial Reasoning presented a talk for the entire USC community by Jayme Laber from NOAA's National Weather Service. Laber, a Senior Service Hydrologist, spoke on the current uses of GIS and geospatial data to track, forecast, and issue warnings for weather related events. He shared new and exciting data viewers for weather and hazards, as well as new satellite systems with greater spectral data collection capabilities and higher resolution.
For the 2015 GIS Day, the USC Spatial course SSCI 165: Sustainability Science in the City featured Natalia Gaerlan, Diana Silva, and Edna Robidas of The Trust for Public Land speaking about "Using Spatial Analysis to Maximize the Impact of Multi-Benefit Projects," with a field visit to the nearby Avalon Alleys.
On GIS Day 2014, USC Archaeology, GeoDesign, and Spatial Studies students demonstrated field applications of geospatial science and technology in archaeological excavations. They learned how remote sensing, aerial imagery, and GPS systems are helping archaeologist in Guatemala uncover ruins of ancient civilizations. View gallery.
For the 2013 GIS Day celebration, the Spatial Sciences Institute held an information session on the B.S. in GeoDesign major, followed by a demonstration by spatial sciences undergraduates in SSCI 301: Maps and Spatial Reasoning of the ability to capture aerial data from a mapping balloon. The Spatial Sciences Institute balloon is registered with Public Lab, a citizen science group that shares research ideas and experiments. The balloon is a weather balloon equipped with a GoPro camera mounted and attached to the balloon base, which captures aerial imagery of a study area. The imagery can then be downloaded and "stitched" together to provide a full mosaic of the study area under investigation. The temporal resolution of the mapping technology provides immediate surveillance of an area, which can then be used for a spatially-informed response plan, such as in areas affected by natural and other disasters. View Gallery.
The Spatial Sciences Institute joins other organizations in presenting GIS Day activities, including Esri, the National Geographic Society, the Association of American Geographers, the American Congress on Surveying & Mapping (ACSM), the American Geographical Society, the American Planning Association, the Center for International Earth Science Information Network (CIESIN), the Geospatial Information & Technology Association (GITA), Hewlett-Packard, the National Center for Geographic Information and Analysis (NCGIA), the National Council for Geographic Education (NCGE), the National States Geographic Information Council, the Open Geospatial Consortium (OGC), Sun Microsystems, the Urban and Regional Information Systems Association (URISA), the University Consortium for Geographic Information Science (UCGIS), the US Geological Survey, The Library of Congress, the Map and Geography Round Table (MAGERT) of the American Library Association, The Nature Conservancy, the Wildlife Conservation Society, and the World Wildlife Fund.
GeoDesign majors have the opportunity to present papers, posters, and network with industry professionals at the annual
Los Angeles Geospatial Summit
presented by the USC Spatial Sciences Institute. This one-day event held each year in February features speakers and presentations on trends and innovative projects spanning fundamental spatial science, geospatial technologies, and applications. A consortium of GIS academic programs throughout Southern California collaborates to provide a unique opportunity for GeoDesign students to be a part of the GIS and geospatial community.
Save the date for the Friday, February 23, 2018 Los Angeles Geospatial Summit at the USC Radisson Hotel, adjacent to the USC University Park campus.
Join SSI faculty and GeoDesign majors at the annual Esri Geodesign Summit held at the Esri headquarters in Redlands in January. GeoDesign majors and Spatial Studies minors are eligible for one-day complimentary student registrations. Plan to attend the
2018 Geodesign Summit
on Tuesday, January 23 – Thursday, January 24, 2018. Watch Bill Miller, the founder of Esri GeoDesign Services, talk about
"GeoDesign Philosophy, Theory, and Methods"
at the 2012 Esri Geodesign Summit.
Students also are encouraged to attend the Esri User Conference in San Diego in July each year. The Spatial Sciences Institute hosts a booth and a networking reception at the Esri International User Conference, and cordially invites alumni and graduate and undergraduate students to come by both venues.