For centuries, geography and maps have given us ways to describe and understand our world. In the digital age, powerful computation methods and technologies draw upon geography and other sciences to form geographic information science (GIS), its own cross-cutting discipline that contributes to scientific discovery and shares new knowledge through web portals and re-imagined maps and other visualizations.
We are at the forefront of furthering geographic information science into new frontiers to tackle intractable social issues in ways that were not possible before.
Analyzing and Modeling the Earth's Surface
Published by WILEY Blackwell in 2018,
by
John P. Wilson
describes state-of-the-art digital terrain modeling workflows and ways to use digital elevation data to support research and decision making across the earth and environmental sciences.
Acquiring Spatial Data
With five faculty members licensed by the FAA for drone operations, we are rapidly expanding our use of unmanned aerial systems (UAS) in our courses and research. We teach UAS as a collection platform in courses where students autonomously fly collection routes with fixed and rotary-wing platforms. With recent extramural support from the Department of Defense, our Human Security and Geospatial Intelligence Lab is a campus leader in developing the autonomous use of drones for 3D change detection, modeling and simulation.

Storytelling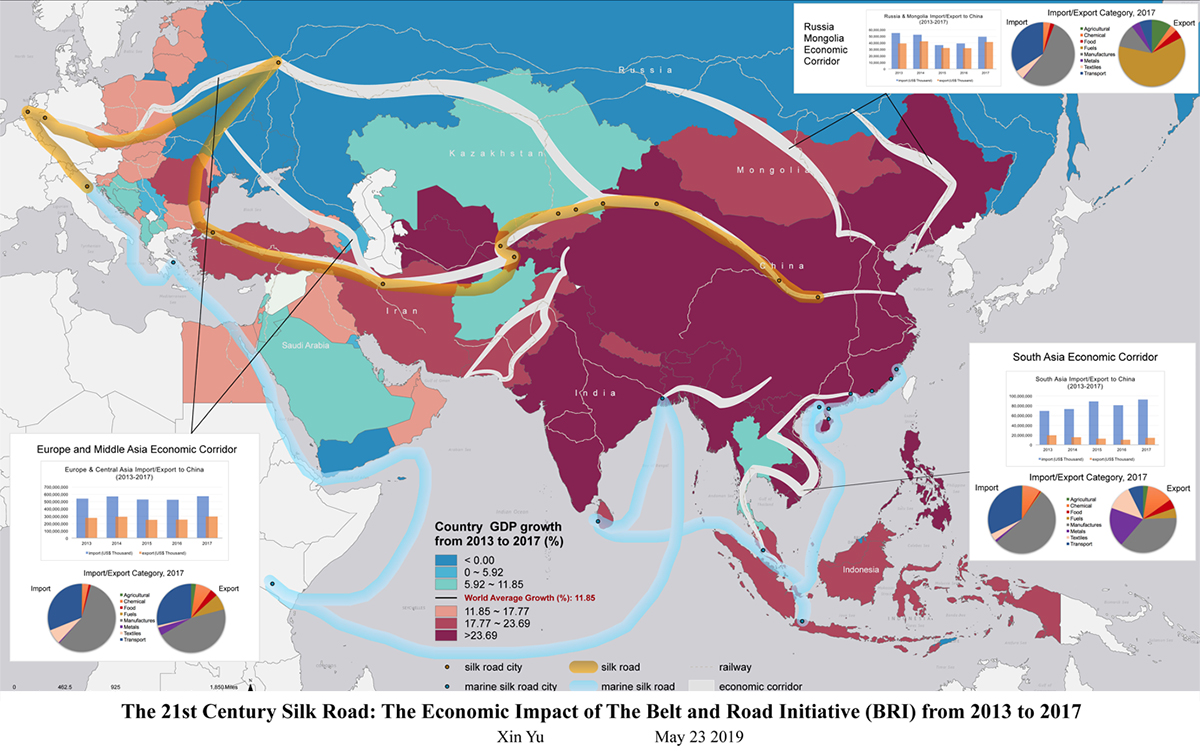 For her final project in SSI's cartography and visualization course, Xin Yu (M.S. Spatial Data Science '19; Population, Health and Place Ph.D. student) produced this map which shows the routes along the 21st-century silk road (Belt and Road Initiative), with three corridors as examples of the economic and trade development opportunities for participating countries from 2013 to 2017.
Conserving Species Habitats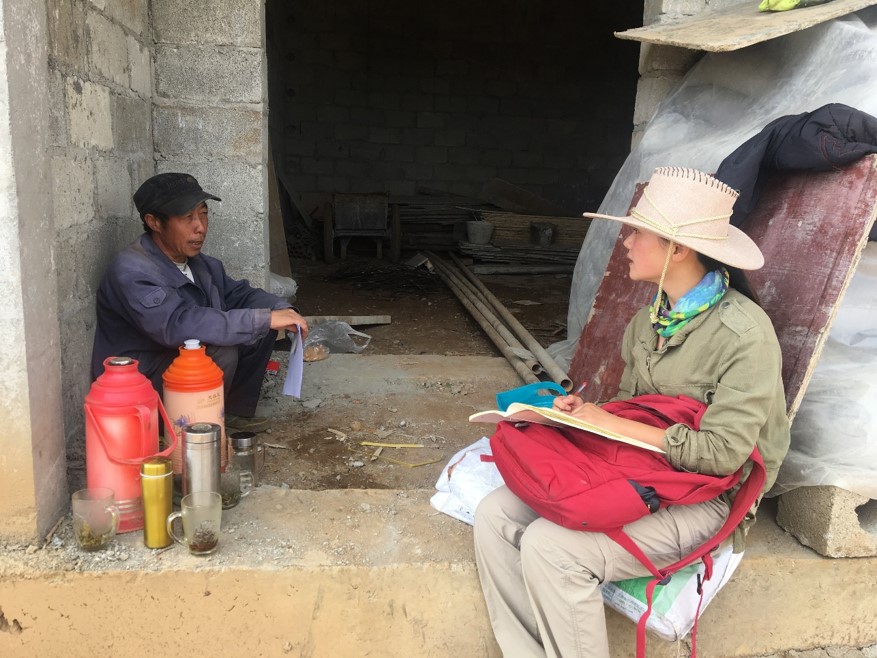 Wanting Peng
(right), visiting student with the Spatial Sciences Institute and the USC School of Architecture Landscape Architecture program is integrating biophysical and socioeconomic modeling with spatial analysis to protect the habitat of the threatened black-necked crane (
Grus nigricollis
) as well as human livelihoods in a rural mountainous region of China. Peng is a Ph.D. candidate in Landscape Architecture at Tongji University.
Protecting the Environment
USC arborist Michael Wallich (left) worked with GeoDesign majors Samantha Levi (center) and Jenna Gray (right) in testing an app developed by a SSI research team to support the collection of information on street trees in the City of Los Angeles. As part of SSI's observance of Earth Day 2019, Levi and Gray, officers in the SC Mappers student organization, led volunteers in contributing to the inventory of trees in USC Village.