habre@usc.edu / (323) 442-8283 / SSB 230
https://www.linkedin.com/in/rimahabre
http://profiles.sc-ctsi.org/rima.habre
https://www.researchgate.net/profile/Rima_Habre
2012 ScD, Environmental Health, Harvard T. H. Chan School of Public Health
2007 MSc, Environmental Health, Cyprus International Institute for the Environment and Public Health
2006 B.S., Environmental Health, American University of Beirut, Lebanon
Rima Habre is an Associate Professor of Population and Public Health Sciences in the Division of Environmental Health at the USC Keck School of Medicine. She also holds an affiliated appointment with the USC Spatial Sciences Institute in the USC Dornsife College of Letters, Arts and Sciences.
A native of Beirut, Lebanon, Habre completed her undergraduate studies at the American University of Beirut and then moved to Cyprus to complete the Master of Science program in Environmental Health at the Cyprus International Institute for the Environment and Public Health in association with the Harvard School of Public Health.
In 2007 she joined the Harvard T. H. Chan School of Public Health in Boston, Massachusetts where she completed her Doctor of Science degree in Environmental Health with Dr. Petros Koutrakis.
Her expertise is in environmental exposure assessment, especially to mixtures of air pollutants and their sources. Her research interests revolve around:
1) exposure assessment to complex air pollution mixtures integrating measurements and modeling;
2) use of mHealth technologies, including real-time environmental sensors, geolocation and data integration methods to accurately predict personal exposure across time-scales and micro-environments; and
3) epidemiological investigations of the association between air pollution exposures and respiratory outcomes.
In the NIH-funded "Life Course Approach to Developmental Repercussions of Environmental Agents on Metabolic and Respiratory Health" (LA DREAMERs) project, Habre directs the Exposure Assessment Cores in the Environmental Influences on Child Health Outcomes (ECHO) initiative.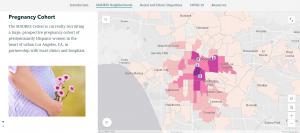 She also directs the Maternal and Developmental Risks from Environmental and Social Stressors (MADRES) Center, which is working to improve health in communities overburdened by pollution and other environmental factors that contribute to health disparities. The MADRES Center is funded by the National Institute of Environmental Health Sciences (NIEHS), the National Institute on Minority Health and Health Disparities (MIMHD) and the National Center for Environmental Research at the U.S. Environmental Protection Agency (EPA). See the story map on how COVID-19 is affecting MADRES neighborhoods.
In addition, Habre co-leads the Real-Time Air Pollution and Asthma Study project of the Los Angeles Pediatric Research with Integrated Sensor Monitoring Systems (PRISMS) Center, an mHealth research study on the asthma patient population.
Recent Publications
Demographic predictors of urinary arsenic in a low-income predominantly Hispanic pregnancy cohort in Los Angeles, J Expo Sci Environ Epidemiol. 2020 Jul 27.
Biomedical REAl-Time Health Evaluation (BREATHE): toward an mHealth informatics platform, JAMIA Open. 2020 Jul; 3(2):190-200.
Exposure Measurement Error in Air Pollution Studies: The Impact of Shared, Multiplicative Measurement Error on Epidemiological Health Risk Estimates, Air Qual Atmos Health. 2020 Jun; 13(6):631-643.
Spatiotemporal Imputation of MAIAC AOD Using Deep Learning with Downscaling, Remote Sens Environ. 2020 Feb; 237.
Air Pollution Monitoring for Health Research and Patient Care. An Official American Thoracic Society Workshop Report, Ann Am Thorac Soc. 2019 Oct; 16(10):1207-1214.
Domain Adaptation in Children Activity Recognition, Conf Proc IEEE Eng Med Biol Soc. 2019 Jul; 2019:1725-1728.
Study Design, Protocol and Profile of the Maternal And Developmental Risks from Environmental and Social Stressors (MADRES) Pregnancy Cohort: a Prospective Cohort Study in Predominantly Low-Income Hispanic Women in Urban Los Angeles, BMC Pregnancy Childbirth. 2019 May 30; 19(1):189.
Within-subject effects of environmental and social stressors on pre- and post-partum obesity-related biobehavioral responses in low-income Hispanic women: protocol of an intensive longitudinal study,  BMC Public Health. 2019 Feb 28; 19(1):253.
Methodologies for assessing contextual exposure to the built environment in physical activity studies: A systematic review,
Health Place. 2019 11; 60:102226.
Cluster-based bagging of constrained mixed-effects models for high spatiotemporal resolution nitrogen oxides prediction over large regions, Environ Int. 2019 07; 128:310-323.
Exposure measurement error in air pollution studies: A framework for assessing shared, multiplicative measurement error in ensemble learning estimates of nitrogen oxides
Environ Int. 2019 Apr.; 125:97-106.
Applying Multivariate Segmentation Methods to Human Activity Recognition From Wearable Sensors' Data,
JMIR Mhealth Uhealth. 2019 02 07; 7(2):e11201.