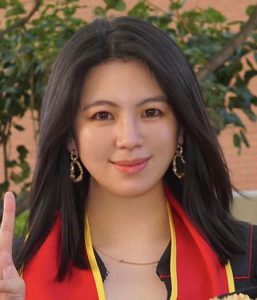 BS Information Systems and Management, Tianjin Polytechnic University MS Spatial Data Sciences, University of Southern California
I majored in information systems and management as a bachelor's student. During my summer internship, I did a geolocation analysis project. The information and pattern of our users could be obtained to find our potential customers better. For example, most of our users are from San Francisco and Los Angeles. With that information, such as the latitude and longitude, we can target customers with relevant ads on Instagram and email campaigns.
At that time, the related work of that project attracted me, and I thought it would be great if I could dig deeper into this field. I wanted to have the ability to solve problems that impact our planet and people's living environment. The MS SPDS program helped me learn how to use data to tell my story and think spatially about research problems. During my time at USC, I met excellent people, and we created novel solutions to solve many location-based challenges. I trained myself to improve my multitasking capabilities and learned to prioritize different tasks by analyzing their dependency. It is a great place to seize new geospatial science and industry opportunities.
After graduation, I will join DISCOVER Financial Services as a senior data science analyst. With the experiences I learned at SSI, I will continue to use spatial data to help improve decision-making and solve business problems for the team, including data visualization, advanced analytics, and related programming.
To me, it is just a beginning to be a member of Woman in Tech. I want to empower girls to pursue careers in tech and wield them as a force for good in the world while also proudly building an exciting future for themselves. I am happy to learn new technologies and incorporate them into my work. I want to be part of a technology product that can bring the future to users. During my time at USC, I learned that the most important thing is to keep learning and be curious because it constantly refreshes our minds with better solutions.