The Geodesign Fellows Program builds global leaders who are committed to helping others and building solutions for some of the world's most serious and vexing problems. This is a 12-month (fall, spring, and summer) on-campus commitment. The fellows chosen each year will work with John P. Wilson, director of the Spatial Sciences Institute and professor, to prepare for and participate in visioning workshops which seek to create consensus among experts, stakeholders and the people of the place around plans for building sustainable and healthy communities.
Geodesign is a relatively new and cross-cutting discipline that uses spatial information to describe the current status and opportunities to improve the lives of people in specific places, using planning as a framework for collective action and design as a force for good. The Spatial Sciences Institute currently offers a B.S. in Geodesign in collaboration with the USC Price School of Public Policy and the USC School of Architecture and a B.S. in Global Geodesign.
Students who apply to the Geodesign Fellows Program should bring some existing skills, experiences and initiatives that could help with the creation and assessment of plans, programs and design solutions, and a strong commitment to pursue a career in global leadership upon graduation. The program is not restricted to USC GeoDesign majors and some additional training will be provided in the handling and use of geographic information to support the work connected with the visioning workshops themselves. The Geodesign Fellows will work in a multi-disciplinary team, to communicate across cultures and to evaluate the efficacy of proposed solutions from local, national and global perspectives.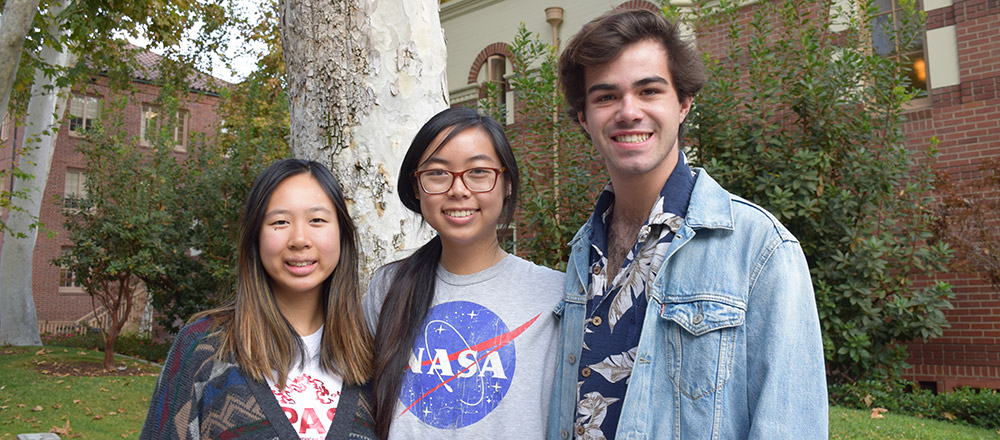 The 2019 - 2020 Geodesign Fellows are (L-R) Lilly Nie (B.S. Urban Studies and Planning; Spatial Studies minor), Sarah Ta (B.S. GeoDesign) and Jackson FitzGerald (B.S. Environmental Studies; B.A. Archaeology).
The 2019 - 2020 Geodesign Fellows Project
In the twenty-first century, cities face a growing number of interdisciplinary urban development challenges, and Los Angeles is no exception. With a particular focus on Superblocks, the Geodesign Fellows are developing a framework to identify areas that stand to benefit the most from community engagement strategies and emerging mobility strategies. Their scope of work includes acquisition and selection of data, data quality control, and suitability analysis. Using Geodesign methods and concepts, the fellows will introduce Superblocks as a potential solution to mitigate critical social, health, and sustainability issues.
Applications for the 2020-2021 academic year are now closed.
Applications for the 2021-2022 academic year will open in late 2020. Applicants must be current freshmen or sophomores who will be sophomores or juniors in the 2021-2022 academic year.
Applications include the following elements:
• A personal statement which describes both your existing skills and interests and your aspirations following graduation
• A resume
• A copy of your STARS report
• A course plan indicating anticipated course work towards graduation
• One or more work samples (a final class project report or something similar)
• Three letters of recommendation that speak to your career aspirations and current skills and experiences
An interdisciplinary faculty/staff committee will review the applications and schedule interviews during the first week of April and the applicants will be notified of the results soon thereafter. The program will convene a kickoff meeting for the fellows in late April. The work itself will start in Fall Semester, 2021 and continue through the end of Summer Semester, 2022. The fellows will be expected to work 4-6 hours per week during fall and spring semesters and 30-40 hours per week for 10-12 weeks during summer. Some travel to prepare for and/or participate in workshops can be expected as well. Each of the fellows will be paid a stipend of $11,000 over the 12 months in which they serve as Geodesign Fellows (i.e., $3,000 in each of the fall and spring semesters and $5,000 in summer).
For more information, please email Ken Watson, Spatial Sciences Institute Academic Programs Director, at watsonke@usc.edu or call him at (213) 740-8298.