Today's dynamic world is continuously rocked by natural disasters, conflict and other causes of instability and chaos. Decision makers, be they humanitarian organizations, first responders, peacekeeping forces or government organizations, need scientific and technological capabilities to create, gather and analyze real-time information to ensure human security.
Through our faculty expertise in human security and geospatial intelligence (GEOINT), we are engaged in multi-disciplinary approaches to unlock the power of geospatial data, combined with spatial thinking and geographic information science (GIS) and technologies, to make environments more stable and secure.

Our faculty, students and staff are part of a passionate community of researchers, members of armed forces, business professionals and civic leaders committed to using GEOINT to promote global human rights, public health, environmental resilience and other important endeavors.
Preventing Genocide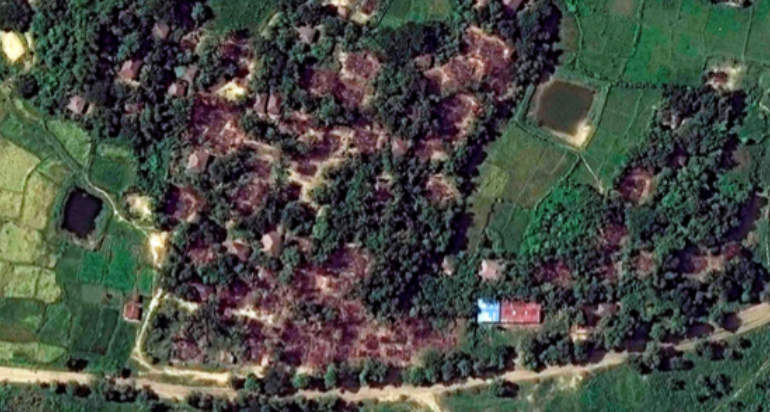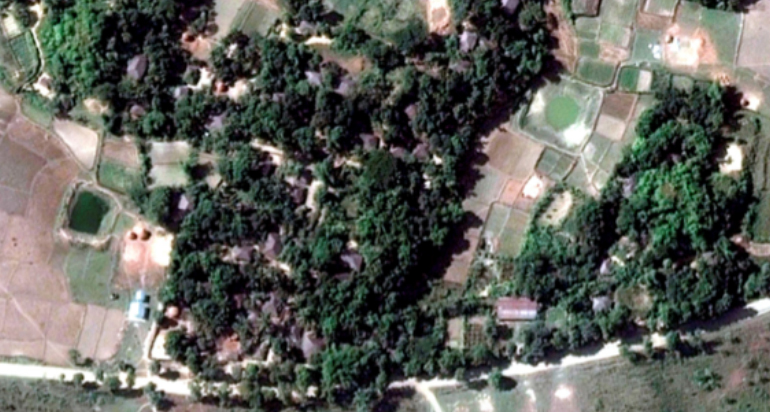 SSI's
Human Security and Geospatial Intelligence Lab
is developing algorithms to process smallsat imagery to quickly detect human rights abuses and violations. The identified imagery can be used to corroborate on-the-ground refugee testimonies of systemic bombings and serve as evidence needed to document patterns of genocide under international law. Under the direction of
Andrew J. Marx
, associate professor of the practice of spatial sciences and the
USC Institute for Creative Technologies
, this undergraduate student team worked with Human Rights Watch and Physicians for Human Rights in monitoring the persecution of the Rohingya Muslim minority in Myanmar in 2017.
Supporting National Security
James Luttrull (B.A. International Relations, Minor in Spatial Studies '17; M.S. GIST '18) discovered the power of spatial sciences taking SSI's
summer International Geodesign course in Amsterdam
and thereafter found a natural intersection between his interest in international relations and geospatial data science. After graduating USC with numerous honors and publishing as a contributor with the Small Arms Survey, Luttrull was a 
Boren Fellow
in Indonesia in 2017-2018 and now works as a researcher with the U.S. government. For his M.S. in GIST masters thesis, Luttrull focused on the challenge presented by China's militarization of artificial islands in the South China Sea to security and freedom of navigation in international waters. He developed a novel methodology using remote sensing and trigonometry applied to imagery of China's radar construction, allowing for indirect measurement of China's regional air-defense radar capabilities. His work, co-authored with
COL [R] Steven D. Fleming
, SSI professor of the practice, has been
published in Case Studies in the Environment
.
Empowering First Responders
At the 2019
U.S. Geospatial Intelligence Foundation
GEOINT Foreword in San Antonio, Texas, Elisha Ibanga (
M.S. HSGI
'19) addressed how combining artificial intelligence with geospatial intelligence helps with evacuation preparedness ahead of a disaster by reducing loss of life and injury and community recovery time and costs.
Preparing for Emergencies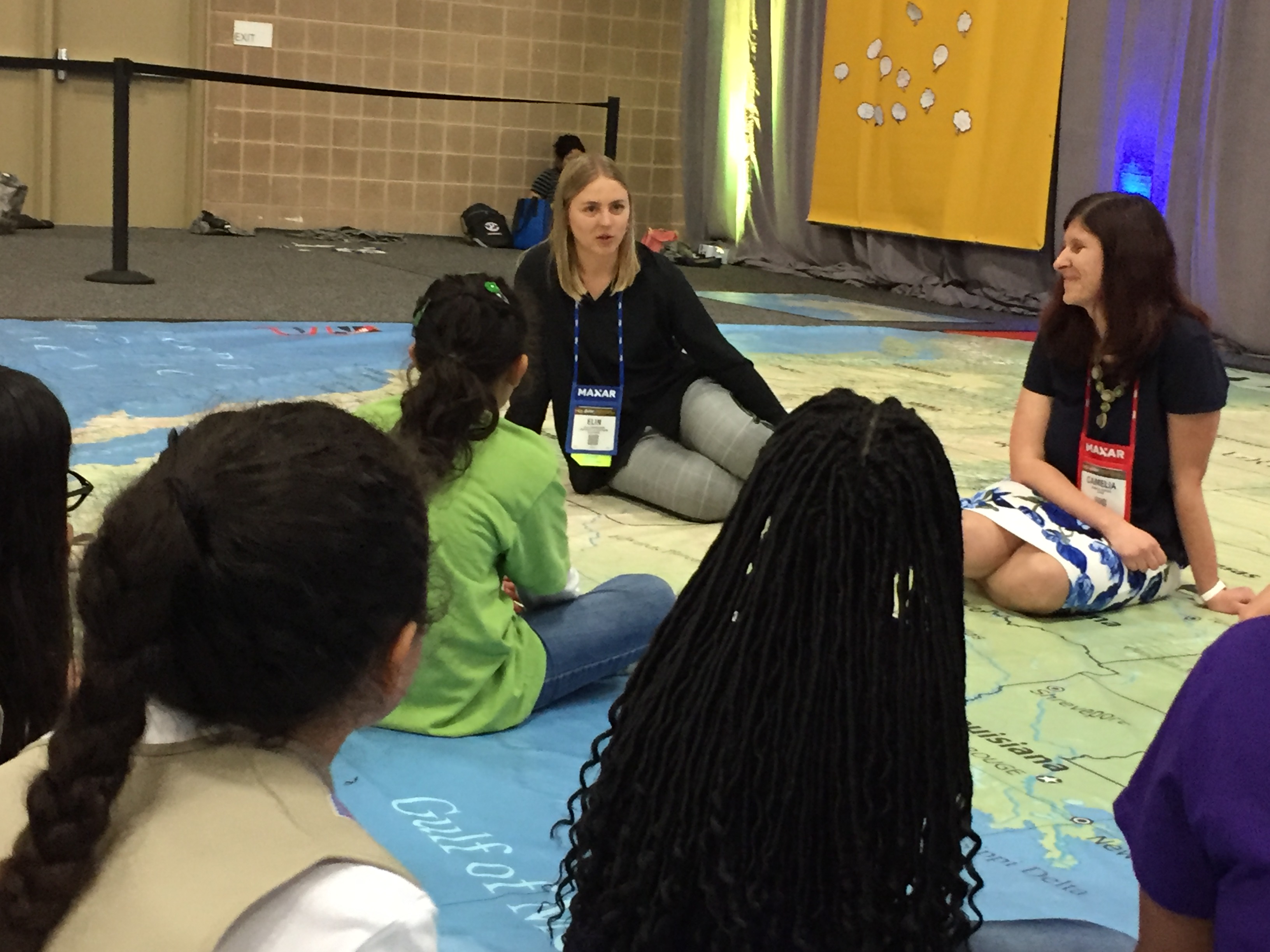 As a senior GIS specialist with a major utility company,
M.S. in Human Security and Geospatial Intelligence (HSGI)
student Elin Henningson is integrating remote sensing and other geospatial intelligence methodologies to prevent damage to gas pipes before they are compromised in disasters. Her career goals are to protect human populations from environmental and other kinds of threats. Henningsson (center) talked with Girl Scouts about being a female professional in a STEM science at the 2019
U.S. Geospatial Intelligence Foundation
GEOINT Symposium.
Grooming GEOINT Leaders

Kevin Mercy (B.A. in Interdisciplinary Archaeology; Minor in Human Security and Geospatial Intelligence; Minor in Computer Programming; M.S. GIST student) is the 2019-2020 recipient of the $10,000 U.S. Geospatial Intelligence Foundation RGi Scholarship for Geospatial and Engineering. Mercy also was one of a number of our students selected by the USGIF to serve as student assistants at its annual GEOINT Symposium. A highlight for student assistants is to present posters of their research and connect with industry and government officials. Mercy and Richard Windisch (B.S. GeoDesign '18; M.S. GIST '19) were also selected by the USGIF to participate in its coveted "Golden Ticket" program, which gives young professionals numerous opportunities to get to know and learn from GEOINT leaders.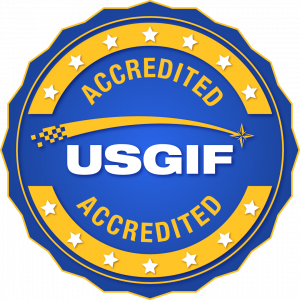 Our M.S. in Human Security and Geospatial Intelligence and Graduate Certificate in Geospatial Intelligence are accredited by the USGIF. Contact COL [R] Fleming at s.fleming@usc.edu to learn more about our GEOINT research and academic programs.