The Spatial Science Institute's Bachelor of Science in Human Security and Geospatial Intelligence (HSGI) provides students with a scientific and technical grounding in human security, including how to evaluate security around the world, create and gather geospatial data, and design solutions that maintain or promote stability for human well-being. In this major, students engage with collaborative and interrelated disciplines, such as international relations, political science, public policy and the spatial sciences.
A background in HSGI is relevant for students interested in issues such as humanitarian response and relief, global human rights, the monitoring and prevention of genocide, international border conflicts, public health emergencies, environmental risks, refugee migration and crisis management. The program provides a framework for analysis and planning that positions graduates for a growing number of jobs and professions requiring a foundation in human security and geospatial intelligence (GEOINT) work.
This major will be well suited for students interested in work with global policy organizations, international NGOs, agencies at the federal, state and local levels, and organizations such as the U.S. Departments of State, Health and Human Services, Interior and Defense.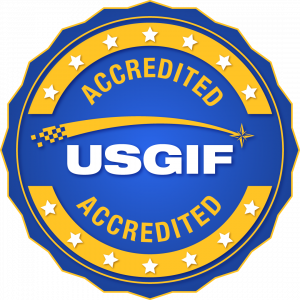 The USC B.S. in Human Security and Geospatial Intelligence degree is accredited by the United States Geospatial Intelligence Foundation as an academic program that supports the development of a geospatial intelligence workforce.
Additionally, this major has been designed to support the academic programs of ROTC cadets at USC and veterans seeking to undertake or complete their undergraduate education. USC, through its Spatial Sciences Institute, is unique in being the only U.S. university offering this undergraduate degree program outside of one of the military service academies.
Meet a Human Security and Geospatial Intelligence Major
SSI in the GEOINT Community
RESEARCH AND INDUSTRY OPPORTUNITIES
Whether in the classroom or in the field, HSGI students can work on research projects with interdisciplinary faculty from the Spatial Sciences Institute, and, in particular, in SSI's Human Security and Geospatial Intelligence Lab. Additional research opportunities are with SSI's affiliated faculty and units across the university, including the USC Institute for Creative Technologies, and with visiting scholars and research collaborators with entities such as the U.S. Army Corps of Engineers and the Naval Postgraduate School.
SSI human security and geospatial undergraduate researchers have published their work in peer-reviewed journals, presented posters and talks at national and international conferences, and have won prestigious scholarships, awards and fellowships, such as Fulbright and Boren scholarships.
CURRICULUM
Pre-Major Requirement
Major Requirements
Practicum Capstone
PROGRESSIVE DEGREES
The B.S. in Human Security and Geospatial Intelligence degree can serve as a progressive degree path to obtaining a USC masters degree with the baccalaureate degree in just five years. Progressive degree pathways are available into SSI's M.S. in Geographic Information Science and Technology, M.S. in Human Security and Geospatial Intelligence, M.S. in Spatial Data Science, and M.S. in Spatial Economics and Data Analysis. Other progressive degree pathways also are possible; please email Monica Pan, SSI Academic Programs Director, at monicap@usc.edu.
LEARN MORE
Talk with COL [R] Steven D. Fleming, Ph.D., professor of the practice of spatial sciences and the Institute for Creative Technologies, about the advantages of being a Human Security and Geospatial Intelligence major or adding HSGI as a double major. Email him or call him at (213) 740-7144.