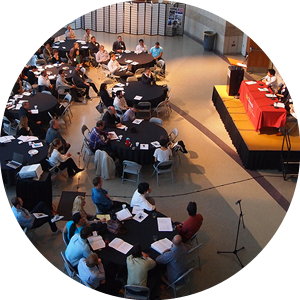 Calling all geospatial infovores!
Gather at the Los Angeles Geospatial Summit presented by USC Spatial Sciences Institute each February. Discuss emerging trends in geospatial science, technology, and applications with industry leaders and GIS faculty and students at this one-day networking event presented by the USC Spatial Sciences Institute.
Undergraduate and graduate students in GIS and related geospatial disciplines can present papers and posters, learn from industry leader speakers, and network throughout the summit. Industry professionals can share insights about emerging geospatial trends, create greater awareness for their work, and connect with other geospatial professionals in the region.
The collaborating academic programs for the 2015 summit are: California State University, Long Beach; Claremont Graduate University; University of California, Los Angeles; and University of Redlands.
Upcoming Events
Past Events
February 27, 2015 @ 8:30 am - 6:00 pm Calling all geospatial infovores: gather at the annual Los Angeles Geospatial Summit each February.
---