The Spatial Sciences Institute is a Sustaining Partner of the U.S. Geospatial Intelligence Foundation (USGIF), the only organization of its kind aimed at bringing together the many disciplines involved in the geospatial intelligence sector to exchange ideas, share best practices, and promote the education and importance of a national geospatial intelligence agenda.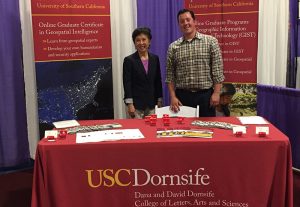 The USGIF has accredited the USC Graduate Certificate in Geospatial Intelligence and the M.S. in Human Security and Geospatial Intelligence. Read more about the USGIF accreditation in USGIF's Trajectory magazine.
SSI Professor of the Practice Steven D. Fleming (COL [R]) serves on the USGIF Academic Advisory Board, which is responsible for USGIF's educational initiatives. COL Fleming and other SSI faculty are annual contributors to the USGIF "State and Future of GEOINT." Read the 2019 report, 2018 report and the 2017 report.
Richard Windisch ('18 B.S. in GeoDesign; '19 M.S. in GIST) was a 2018 awardee of a United States Geospatial Intelligence Foundation (USGIF) Golden Ticket, a program which supports young geospatial professionals in their professional development by sponsoring their attendance at the USGIF GEOINT Symposium and arranging for high-level introductions to industry leaders. Read about his experiences and those of other USC Spatial students who served as 2018 GEOINT Symposium student assistants.
Look for COL Fleming, SSI Managing Director Susan Kamei, SSI Academic Programs Director Ken Watson, and USC colleagues with the Institute for Creative Technologies, the USC UARC, at the 2019 USGIF GEOINT Symposium in San Antonio, Texas. Read more about when to meet up with the USC team in San Antonio here.
Read about Anne Aryadne Bennett and Courtney Fassett, two USC students who were 2016 USGIF scholarship winners.