Each summer, USC undergraduates have an unparalleled opportunity to experience and apply geodesign practice in a comparative international context in the Spatial Sciences Institute course SSCI 350: International Geodesign.
Through SSCI 350: International Geodesign, I traveled to Amsterdam to compare and contrast GeoDesign practices in the Netherlands with those in Los Angeles. While abroad, I gained knowledge on several topics including city planning, transportation, and public housing, and used this information to propose a solution to a challenge facing Los Angeles. More importantly, this course gave me an opportunity to study abroad for the first time and experience the benefits of learning in a different physical and cultural setting.

Since taking the course, my desire to study abroad grew exponentially, and I plan to make cross-national comparisons in my future graduate studies. Most recently, I was awarded a Fulbright award to conduct sociological research in Brazil. Similar to my experience in Amsterdam, I aim to apply what I learn internationally to domestic issues in creative and thoughtful ways.
~ Alejandro Schugurensky, Spatial Studies Minor '18

2023 SSCI 350 in China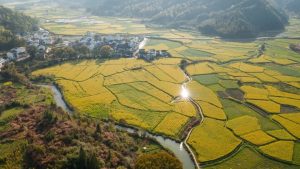 Global geodesign expert Dr. Guoping Huang is leading a five-week Maymester course during which students have the opportunity work intensively with the interdisciplinary faculty, visiting scholars and practitioners at the Turenscape Academy, a world-class institution for designer and planners, for ten days in the picturesque village of Xixinan in rural Anhui Province, China, to develop rural planning projects that aim to achieve UN's Sustainable Development Goals.
The projects will draw upon sustainable planning and policy, people and place, landscape planning and geospatial technologies.
Included in the program are excursions to nearby UNESCO world heritage sites, including the ancient village of Hongcun, a location featured in the movie "Crouching Tiger, Hidden Dragon," and the Yellow Mountain.
After three days of independent travel, students will regroup and wrap up the program in the bustling city of Shanghai, where they will visit Tongji University to present their geodesign projects as well as their findings and reflections.
The program will start on Tuesday, May 16, 2023 and will conclude in Shanghai on Thursday, June 15, 2023. The exact itinerary is subject to change as the travel protocols in China continue to evolve.
This course is open to all USC undergraduates of any major; there are no prerequisites. Applications are now being accepted and are due on Saturday, December 3, 2022.
For more information and to apply, please contact Dr. Huang at guopingh@usc.edu.
Past SSCI 350 Courses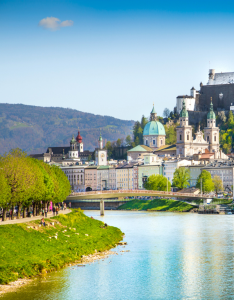 In the summer of 2022, the course under the direction of USC Spatial Sciences Institute Professor Laura Loyola went to Salzburg, Austria, a UNESCO World Heritage Site known for its historic city center as well as the faculty of the Z_GIS Geoinformatics Department of the University of Salzburg.
During the two-week field experience from May 28 - June 11, 2022 in Salzburg, students created urban renewal project plans with a focus on increasing density and green space in Salzburg in collaboration with the community stakeholders and the interdisciplinary faculty of the Z_GIS (Geoinformatics Department).
Upon returning to Los Angeles, the students presented their capstone research project proposing geodesign strategies.
The USC Spatial Sciences Institute has designed this course so that students benefited from the Institute's relationships with UNIGIS Salzburg and other world-class practitioners throughout Europe.
From 2014 - 2019, the SSCI 350: International Geodesign course examined concepts of geodesign, urbanism, planning and policy, geospatial technologies, people and place in Amsterdam with Dutch geodesign practitioners and faculty and students from Vrije University Amsterdam.
Watch the video of the 2014 "GeoDesign Practice: The European Experience" in Amsterdam.
The Spatial Sciences Institute's trip to the Netherlands helped me understand the true meaning of GeoDesign, allowed me to apply my learning to a real-world problem, inspired me to make meaningful change, and gave me the tools to further direct my studies at USC. Through discussions with local governments, community members, and social housing corporations, we helped draft a second-iteration compromise plan for renewable energy in Amsterdam Noord.

This process involved complex GIS analysis, as well as meetings with the Rotterdam sustainability office, community members, and local residents participating in sustainability rebates. We incorporated these perspectives into our plan, reinforcing the importance of stakeholder input in addressing spatial problems. In addition, the trip exposed us to the culture and values of the Netherlands through visits to many Dutch cities and towns. We learned about traditional Dutch food, history, art, and cultural figures through tours, museum visits, site visits, and individual exploration. This immersion in Dutch culture informed the GeoDesign process by helping us understand the values that drive stakeholder perspectives.

Ultimately, the trip taught me the importance of understanding cultural, political, social, and spatial context. Through a partnership with the Vrije University, the trip provided me with an international professional network and a broader understanding of how countries address universal environmental and social challenges. I formed lasting bonds with other GeoDesign students and faculty, and gained inspiration for my studies upon returning to USC. The trip was one of my favorite experiences at USC and I would recommend it to anyone considering attending. Thanks, Spatial Sciences Institute! ~ Grace Corsi, B.S. GeoDesign '19