Think spatially and change the world.
The online USC Graduate Programs in Geographic Information Science and Technology (GIST) develop and empower spatial problem solvers who can innovatively address global challenges.
Whether it's estimating pesticide exposure in epidemiologic studies, remotely analyzing avalanche terrain features to identify routes and avoid hazards, or capturing the spatial distribution of Nile crocodiles in northwestern Madagascar, our graduates are equipped to combine spatial thinking, reasoning, science, and technology to bring about real-world impact. Read more about GIST student research, awards, and accomplishments, and meet some alumni.
Choose from among three graduate certificates in Geographic Information Science and Technology, Geospatial Intelligence, and Geospatial Leadership. In the M.S. in GIST program, choose from one of four tracks:
Spatial Data Acquisition and Integration;
Spatial Data Analysis and Visualization;
Spatial Applications Development; or
Spatial Thinking.
The residential M.S. in Spatial Informatics Program offered jointly with the USC Viterbi School of Engineering provides the ability to address data-intensive, large-scale and location-based issues. This ground-breaking programs is for individuals with either a computer science or social sciences background to navigate the field of data analytics and the domains where informatics skills can be applied to critical organization missions.
Meet some of our students
See Here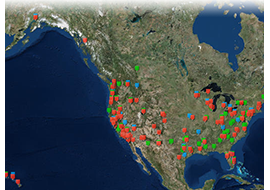 Understanding major global issues – climate change, population growth, water and energy demands, human health and sustainability, rapid urbanization and cultural homogenization, among others – entails understanding the connection between place and space.
Our USC graduate GIST programs provide a core foundation in geographic information and spatial sciences, cutting-edge GIS applications, and the resources and facilities of a leading research university. With training in spatial thinking, geospatial research and problem solving, data collection, analysis, modeling, and visualization techniques, USC GIST students and alumni produce their own GIS applications which improve decision making, communication, and quality of life.
Ready to become a creative global problem solver? Talk with an enrollment advisor at (888) 907-5029. Current USC students, please talk with Ken Watson, academic advisor, at (213) 740-8298.

Housed within the USC Dana and David Dornsife College of Letters, Arts and Sciences, the Spatial Sciences Institute is a renowned center for research, innovation and teaching, a strategic "home base" for your online graduate GIST studies.
Distinguished faculty: Interdisciplinary academic faculty members hold Ph.D.s in their respective fields and are leaders in the GIS&T and spatial sciences.
Relevant curriculum: We teach more than just today's technology, which will become quickly outdated. Because of our faculty's deep grounding in spatial theory and sciences, our students can develop spatial thinking and reasoning skills to be nuanced and agile GIS professionals, apace of technology, throughout their careers.
Leading-edge resources: USC students enjoy access to software, hardware, data, geoprocessing, and Web services, as well as online access to USC libraries, which provide access to full-text journals and other library services. Students work from virtual desktops and servers supported by an in-house Cloud computing infrastructure.
On-site fieldwork: Students participate in a signature one-week field excursion to the USC Wrigley Marine Science Center on Catalina Island, a hand's-on experience not offered by any other program.
Global connections: The USC GIST graduate programs are two of just a few online programs directly linked to UNIGIS International Association, an active global GIS research and teaching enterprise.
Diverse student body: Founded on the premise of diversity and acceptance for all students who have the passion to learn, USC enrolls more international students than any other U.S. university.
Research-based epicenter: As a leading research institution in Los Angeles, USC has leveraged its location to establish professional and academic relationships with fellow institutions throughout Asia and the Pacific Rim, as well as around the world.
The USC Spatial Sciences Institute is unique as a nimble, cross-cutting enterprise that promotes spatial research and teaching throughout a world-class university.
The online GIST graduate programs are year-round, designed with working professionals in mind. With a focus on collaboration and a rigorous curriculum, these flexible yet challenging programs enable working professionals to access courses as their schedule permits and begin immediately applying freshly learned concepts in their current job. Complete a graduate certificate in as few as two semesters or 8 months, or a M.S. in GIST in as few as five semesters or 20 months.
Anyone today with a computer or smart phone is both a consumer and producer of geospatial information. Analyzing "big data" generated by social and economic phenomena requires the ability to utilize spatial science. Geographic information science (GIS) has grown beyond its roots in computer science, geography, mathematics, and surveying. Geospatial technologies are now one of the 21st century's most important high-growth industries, according to the U.S. Department of Labor.
Private companies, non-profits, government agencies, and other organizations need professionals with this scientific and technical knowledge, and few will consider an undergraduate degree sufficient. Propel your career with a USC GIST graduate certificate or master's degree.
Student Accomplishments
The Catalina Experience
Learn More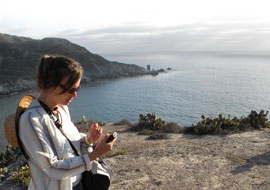 USC GIST certificate and masters students have many opportunities to present papers and develop them for publication in leading industry and academic journals. Read more about how our students and alumni continue to win awards, present at conferences, have articles published, and develop web applications.
Resources
Learn about the available resources for USC GIST online graduate students.