Upcoming events
January 26, 2021 @ 12:30 pm - 1:30 pm

Please join the USC Spatial Sciences Institute's Brown Bag talk with Steve Fleming, Jason Knowles, and Kyle McCullough.
---
February 04, 2021 @ 4:00 pm - 5:00 pm

Hear what some recent graduates of the B.S. in GeoDesign program are doing with the interdisciplinary knowledge, skills and experience they developed as GeoDesign majors. They will also field your questions and share their advice for making the most of what the Spatial Sciences Institute has to offer.
After registering, you will receive a confirmation email containing information about joining the meeting.
Moderator:

Laura C. Loyola, Ph.D., Lecturer and Director of Undergraduate Programs, USC Spatial Sciences Institute
Speakers:

Alex Chen (MPH '20, Columbia University) Data Analyst, NYU Langone Health, City Health Dashboard, Department of Population Health

Grace Corsi, GIS Data Analyst, DLR Group

Robin Franke (Master of Urban Planning '19, USC) Solution Engineer, ArcGIS Urban, Esri

Samantha Levi, M.S. Cartography candidate, Erasmus Mundus Scholar, Technical University of Munich
---
February 26, 2021 @ 8:30 am - 4:00 pm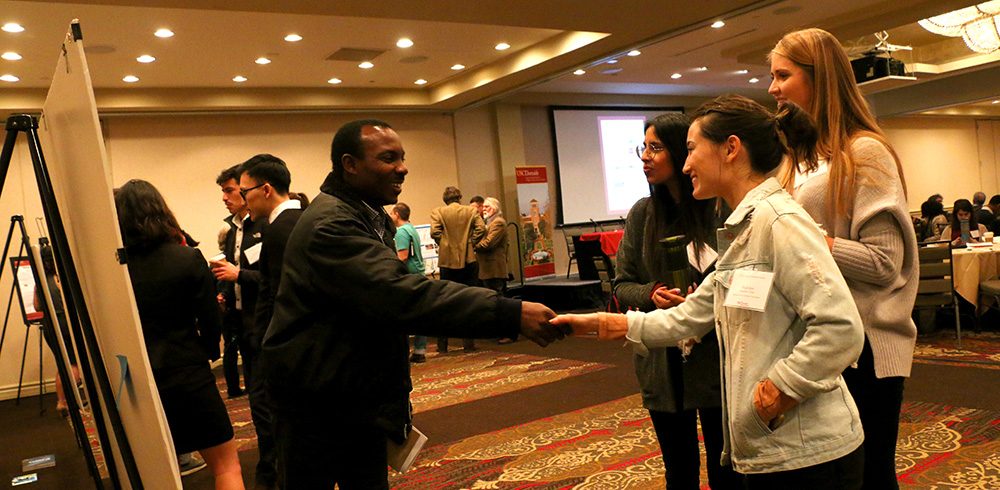 The 2021 Los Angeles Geospatial Summit is going virtual!
Join students, young professionals and industry leaders from the Southland, across the country, and even around the globe on Friday, February 26, 2021 in an interactive online conference platform.
The 2021 program is jam-packed with many new features, including technical workshops, a poster competition, company presentations, and more networking opportunities. View the full program here.
Registration Rates:
| | |
| --- | --- |
| Students | $ 25.00 |
| USC Alumni | $ 35.00 |
| URISA members | $ 35.00 |
| CGIA members | $ 35.00 |
| Professionals (Early Bird Registration until 1/25/21) | $ 35.00 |
| Professionals (Regular Registration from 1/26/21 to 2/25/21) | $ 50.00 |
| Summit Day Registration | $ 75.00 |
For more information, contact Dairon Caro at dcaro@usc.edu.
---
March 16, 2021 @ 10:00 am - 11:00 am

Presented by the USC Spatial Sciences Institute and the Southern California Environmental Health Sciences Center
Mark J. Nieuwenhuijsen, Ph.D.
Research Professor in Environmental Epidemiology, Director of the Urban Planning, Environment and Health Initiative and Director Air Pollution and Urban Environment Programme, The Barcelona Institute for Global Health (ISGlobal)
Introduction by Rob S. McConnell, M.D., Professor of Preventive Medicine and Spatial Sciences, Keck School of Medicine of USC
The urban population is projected to reach 70% over the next 20 years. Suboptimal urban and transportation planning has led to an increase in morbidity and premature mortality due to rising levels of air pollution and noise, heat island effects and the lack of green space and physical activity. Recent health impact assessment studies provide new powerful quantitative evidence for the efficacy of urban and transportation interventions, policies and actions that can improve public health, make our cities more sustainable, and create multiple livability benefits. Instead of being the problem, cities could be planned and managed in ways that provide sustainable, livable and healthy habitats for a large human population.
Read "Urban and transport planning pathways to carbon neutral, liveable and healthy cities; A review of current evidence", Environ Int. 2020 Jul;140:105661. doi: 10.1016/j.envint.2020.105661. Epub 2020 Apr 16. PMID: 32307209.
~~~~~~~~~~~~
Mark J. Nieuwenhuijsen, Ph.D. is a worldwide expert in environmental exposure assessment, epidemiology, and health risk/impact assessment with a strong focus and interest on healthy urban living. In 2018, 2019 and 2020, he was among the 1% most cited scientists in the world.
He has led numerous initiatives for ISGlobal that work to close the gaps in health disparities between and within different regions of the world. His studies examine the intersections of health with active transportation, air pollution, the urban environment and cognition, Bluespace, lifecycle, and citizen science.
Nieuwenhuijsen is the author of the recently-published book COVID19 and the City: The COVID19 Pandemic and the Tranformation of the City. He also has edited three books: Exposure Assessment in Environmental Epidemiology; Integrating Human Health into Urban and Transport Planning; and Advances in Transportation and Health. He is a Co-Editors-in-Chief of Environment International and has co-authoredmore than 450 papers published in peer-reviewed journals and 35 book chapters.
In 2018 he was awarded the International Society for Environmental Epidemiology (ISEE) John Goldsmith Award for Outstanding Contributions to Environmental Epidemiology.
---
April 05, 2021 @ 2:00 pm - 3:00 pm

Presented by:
USC Department of American Studies and Ethnicity
USC Spatial Sciences Institute
Register: https://tinyurl.com/Gonzaba-Mapping-Gay-Guides
Eric Gonzaba, Ph.D.
Assistant Professor of American Studies, California State University, Fullerton
Professor Gonzaba will discuss his work with Mapping the Gay Guides, a new digital humanities project that has currently mapped 34,000+ historical listings from the Bob Damron Address Books, a longtime gay travel guide. In his talk, he will explain the importance the gay print culture beginning in the 1960s and the possibilities of understanding queer histories in a different light utilizing this kind of historical data.
Gonzaba is a historian of sexuality and race in America, with his current research focused on the politics of pleasure in modern America, especially in late twentieth century social movements. He is currently finishing a book manuscript on the history and culture of gay male nightlife since 1970. His work has previously been supported by grants and fellowships from the Point Foundation, the University of Pennsylvania and the Elton John AIDS Foundation.
In 2014, he founded Wearing Gay History, an award-winning online archive that explores the global history of lesbian, gay, bisexual, and transgender people through t-shirts. It won the National Council on Public History's top student prize in 2016.
Beginning in January 2021, Gonzaba will serve as co-chair of the Committee on Lesbian, Gay, Bisexual, and Transgender History, an affiliated society of the American Historical Association.
---
Annual Events