Located in USC's historic Allan Hancock Foundation (AHF) Building, the Spatial Sciences Institute includes faculty and staff office space, conference rooms, student work space, a classroom laboratory, and a collaborative classroom.
Within USC's state-of-the-art data center, the Institute maintains an impressive array of computing technologies dedicated to research and education supported by Dornsife Technology Services and a dedicated systems analyst resident in the Spatial Sciences Institute.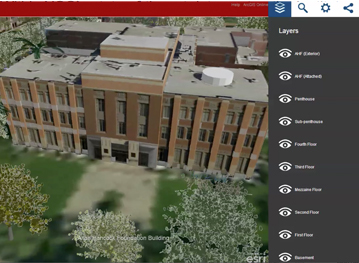 The core consists of 14 multi-core processor IBM blade servers and three clustered IBM 3650m servers hosting a VMware environment. The system supports industry-standard GIS applications from Esri and GPS applications from Trimble, specialty software such as Idrisi Selva GIS and Image Processing, and virtualization technologies from Citrix. A fiber channel SAN running a high-speed disk over a gigabit network ensures high availability and fast access to data.  USC and the Spatial Sciences Institute utilize physical and virtual security features and maintain a stringent disaster recovery plan with weekly and monthly backups sent to a remote location for secure storage.
At the Wrigley Marine Science Center on Catalina Island where field mapping courses are taught, the Institute has installed a community GPS base station to provide GPS coordinates to all who are interested in such data.